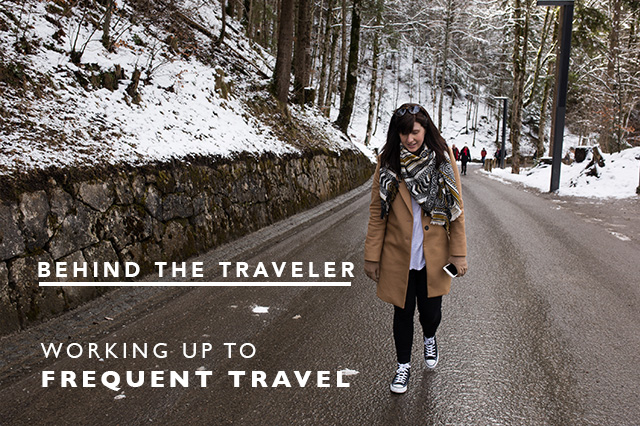 While we're on our road trip to Yellowstone this week, I thought it was the perfect time for a series I've been wanting to do for a long time!  I get asked a lot of questions, by people in my personal life and by followers of Land of Marvels, about how I've managed to work full time and travel as much as I do.  And while I do share a lot on Land of Marvels, sometimes some of the back story is left out.  So all this week, I'm answering some of the topics that I get asked a lot and topics from behind the scenes in my life of how you might be able to travel frequently as well.   All week, I'm sharing some of my tips and tricks to how I travel so much and some behind the scenes info as well!  
For our first topic this week behind the traveler, one of the things that many people, even in my personal life, don't realize is that Nick and I didn't just travel like we do now always.  Working up to our schedule of frequent travel has been a process and something we've planned out very meticulously over the years to get where we are now.  And if you want to travel more frequently like we do, it's important to know the backstory of how we got here.
We've been together almost 12 years and married for almost 7 later this year.  In that time together, we started out as normal college kids when we met and didn't do hardly any traveling together until after we graduated from college.  And even then, it was mostly just traveling to see each other since I was in Hawaii and Nick was in Oregon and we did long distance for a couple years.  Our first opportunity to start traveling really came after we got married and headed to London and Paris for our honeymoon.  It was Nick's first time in Europe and my first time back there since I had traveled there as a kid.  Needless to say, it struck a chord with both of us and we've been traveling ever since.
After our honeymoon, we returned to Portland and worked really hard in our jobs to keep saving money for future travel.  We knew we wanted to start traveling more, but it definitely didn't happen overnight.  We lived for a long time in a little tiny one bedroom apartment so that we could save money for travel.  We passed up on other things in our lives so that we could travel instead.  And ultimately we started doing one overseas trip a year for a couple years.  Over time, we moved up in our jobs, started making more money and instead of spending it on a bigger apartment or other things, we started traveling more.
Over the years, we ended up on our schedule that we generally stick to now, which is a couple overseas trips a year (sometimes more depending on schedule/events) and smaller USA trips every other month, (sometimes monthly depending on schedule).  We've been able to work up to a schedule that works for us both financially and for time off of work.  But what you don't always see here on Land of Marvels are the many years that we worked extremely hard to get where we are today and I think that's often a misconception that should be cleared up.  We didn't get here overnight, it's taken a lot of time to work up to our schedule of travel and to be able to live a lifestyle we like.
So in the end, if you're wanting to travel more with a full time job (of multiple jobs like us), it's definitely possible!  But it won't come overnight and there will be sacrifices along the way.  I guess what I would say though is that at the end of the day, the time and sacrifices we've made have come back to us ten-fold for what we've gained by seeing the world!