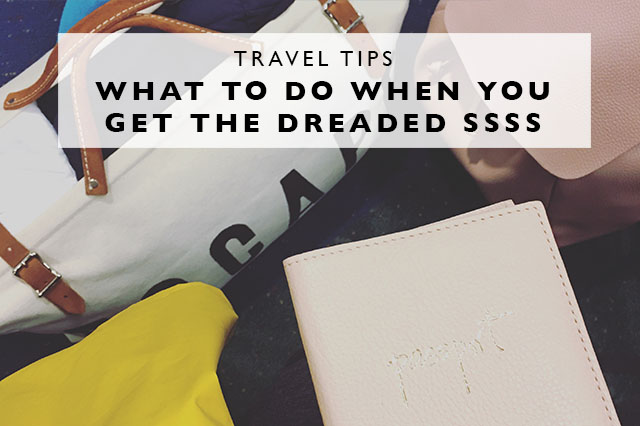 Often times, we look at travel as this romanticized experience where everything is amazing and everything is perfect.  And while some trips do go off without a hitch, I've definitely had my fair share of bad travel experiences.  But perhaps none quite as bad as my recent experience at the Keflavik airport leaving Iceland.  After a great long weekend in one of our favorite countries, we arrived to the airport that is usually a breeze to travel through.  In reality it ended up being one of those Hell-ish travel days that haunts you for a while after.  So before I get to the point of this post, what to do when you get the dreaded SSSS on your boarding pass – a little back story so you understand the full extent of what happened to me and how you can keep it from happening to you!
The day we left Iceland, we arrived to return our rental car at Keflavik airport a solid 3 hours before our flight.  We had grand plans of heading in to the Saga Lounge and relaxing before our flight after driving around all morning.  Upon arriving at the Rental Car return center (a few blocks from the airport terminal) we dropped our car and headed in the building to return the keys.  Now we've rented cars all over the world and usually you just drop everything off and they send you a receipt later.  Often times they don't even look at the car and send you on your way.  I stood in line for a solid 55 minutes.  By the time we were all done (and we had literally no damage or issues either – so it should have been quick), we were rushing to the terminal building with only 90 minutes to go before our flight.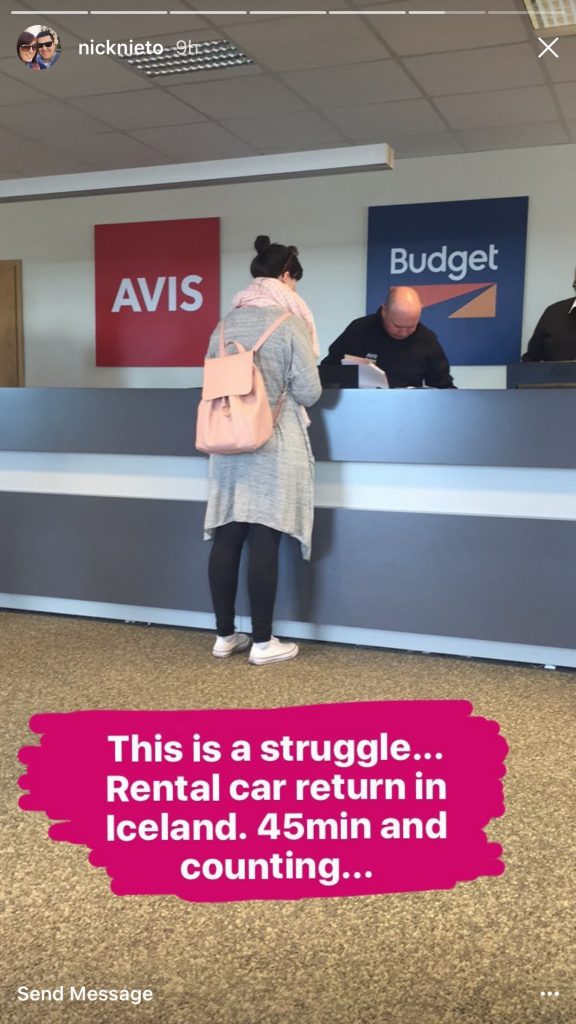 We had tried to check in for our flight online the night before and it wouldn't let us.  Which in retrospect, should have been a red flag.  But we didn't think much of it since it's international and often times they make you check in at the counter to check passports.  Upon arrival in the terminal, we couldn't use the kiosks either, directing us to a gate agent.  She gave us our boarding passes and since we were in a hurry, we didn't even look at them.
Next we arrived at the longest line I have ever seen waiting to get through Passport Control.  I had Nick wait in the horrendous line and headed up to the front just to confirm this was indeed the line we needed – in the end, it actually was for Canada and the UK.  So we moved on up to the USA line which was way shorter (still long, but better) and as we were close to the front we remarked that we would literally only get through the other side and have our flight board in 10 minutes.  Little did we know what was still ahead.
Upon the other side of passport control they were checking boarding passes.  I showed them mine and it was only then that I saw the SSSS printed on the bottom corner.  Immediately I knew this was not good.  The agent told me I had been randomly selected for a second security screening and that I'd need to wait in the line right there.  I remarked immediately that my flight was going to be boarding any minute and she said it didn't matter, I had to do this and that the flights would wait. (I found out later Nick was documenting all of this via Instagram Stories since he couldn't wait with me in the line – so at least we could laugh about the whole debacle later…)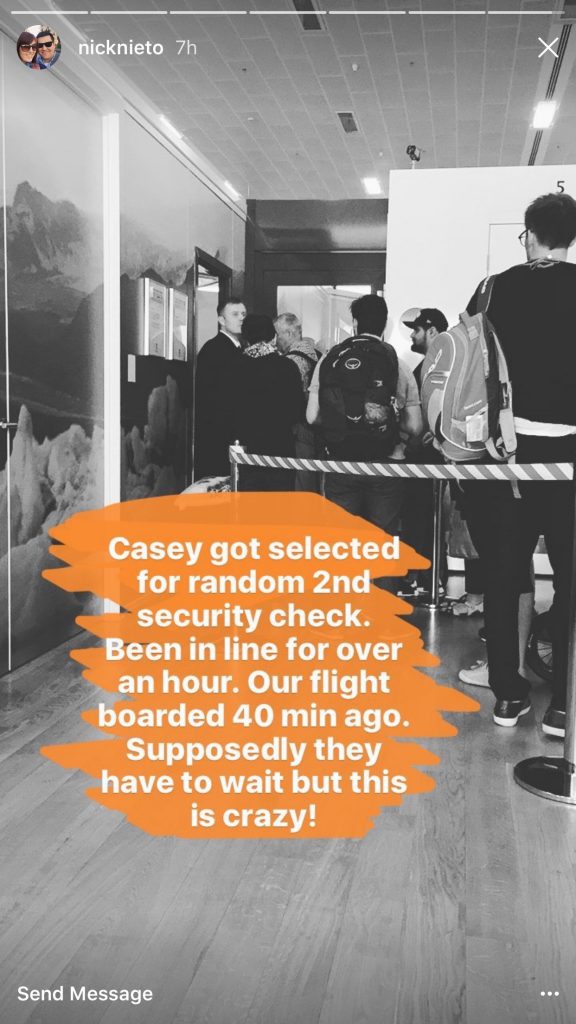 Well long story short, I spent 2 hours in this line along with a solid other 30+ passengers headed to all different US locations.  Once we finally made it to the front of the line, I was made to take all my shoes, scarf, and coat off.  I was patted down.  My luggage was dumped open and every single thing taken out.  I was questioned and my passport taken by the agent (which always makes me nervous).  In short, they searched me like I have never been searched before.  All I kept thinking the whole time was that thank God it was me chosen and not Nick, because it would have taken so much longer to go through all his camera bag!
At the end of this whole horrendous day, they did hold the flights for everyone but even though this was no fault of our own, the flight attendants and passengers were not nice about it when we finally got to board and didn't offer any help finding space for our bags or anything.  We also ended up missing our connection in Seattle as well as I'm sure leaving others with missed connections since we were over an hour late arriving in Seattle.   The whole situation was handled horrendously by the Keflavik airport and Iceland Air and it will be a while until I opt to fly through Iceland again due to this issue and their airport being not up to par with how many people have started flying through there.
In short, if you get the dreaded SSSS which so many travelers have bemoaned before, know that you're in for nothing short of horrible when you arrive at security and in all honesty, there isn't a ton you can do about it.
But if it happens to you, here's a few things to remember to ease the pain:
-If you can't check in online the day before and you should be able to, it's probably a good idea to be at the airport way earlier than you should need to be.
-If you are held up due to security screenings by the airport, they have to hold your flight.
-While I was so angry the whole time, I quickly realized that wasn't going to help anything.  So try to stay calm and just deal with it the best you can.
-Let the airlines and airport know how horrible your experience was.  You might not get anything back but the more people that complain, something could change.
-Be patient.  As hard as that is, most of these security screenings take a long time.  So try to stay calm and patient throughout as best you can.