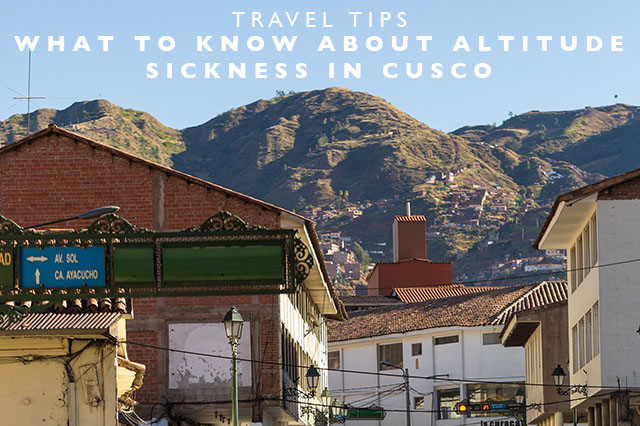 If you're thinking of heading to Peru, specifically Machu Picchu, you'll have to get there through the city of Cusco which sits at extremely high altitude in the Andes mountains, about 11,000 feet above sea level.  Just to give you an idea of how high this is, Sedona, Arizona is about 5,000 feet above sea level.  So Cusco is high up there in the sky and with that comes altitude sickness and very thin air with low levels of oxygen.  This can be hard to get used to and some people get really sick due to the altitude, so if you're headed to this region, here's what you need to know about altitude sickness in Cusco.
You'll notice a difference right away.
Immediately after stepping over the threshold of the plane in Cusco, we noticed the air was different than we were used to.  Just walking up the jet bridge into the airport required a lot of extra energy and deep breathing.  It's pretty amazing how immediately your body notices the lack of oxygen and the thin air.  I immediately looked at Nick and said "walking up this jet bridge shouldn't be this hard."  It's important to be prepared for it and realize that you'll need to adjust based on your reaction to the thinner air.
Drink lots of water in the 3-4 days prior to your trip.
Try to drink only water and lots of it in the days prior to arriving in Cusco.  This also means avoiding alcohol and carbonated sodas… stick with lots of water and that will help keep your system running the best it can before you arrive.
Altitude sickness can affect anyone.
From all the research on altitude sickness, it can affect anyone and there really is no rhyme or reason why some people get sick and others don't.  I kind of thought before our trip that I would get sick because I'm prone in my daily life to headaches and dizziness which can be symptoms, but I had no issue at all.  So it just totally is luck of the draw…. that's why it's so important to do all you can to be prepared.
You can get a prescription for altitude sickness pills from your doctor before you leave.
If you think you might get sick, you can get altitude sickness pills from your doctor.  We got these and took them the day before we arrived to Cusco.  But truthfully, I didn't like the side affects that affected me from the pills: having to go to the bathroom a lot, tingling in your limbs (which I already get badly normally, and this made it unbearable at moments).  So my advice – if you're prone to the side affects already, don't take the medication and chance it.  You can also drink Coca tea in Peru to help with the side affects if you do get sick.
Stay at a higher-end hotel that has oxygen in the rooms.
Most of the higher end hotels in Cusco actually pump extra oxygen into the rooms so that particularly when you are sleeping, which can be difficult to breath during the night, it definitely makes a difference and we could feel the change in the air when walking into our room.
Don't push yourself.
Don't plan your time in Cusco packed full of things to do and places to see.  It's best to spend the first day or two here and just wandering at a slower pace.  You'll notice you get winded a lot faster and you might need to stop and take breaks to breathe in a lot deeper.  Don't push yourself, try not to move too fast and take time to breathe more often than you normally do.
Traveling to Peru?
See all my posts on Peru!