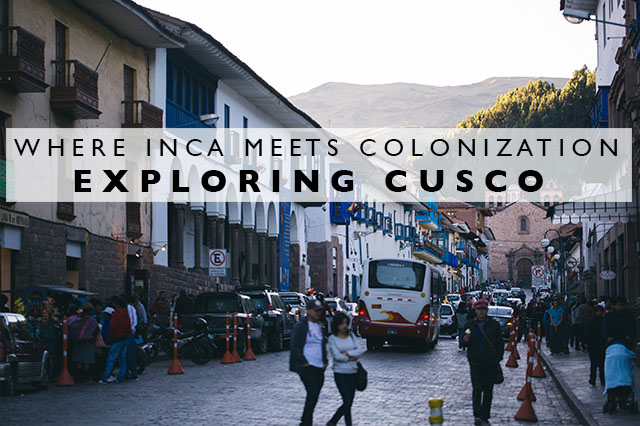 Cusco, the gateway to the Incan empire!  I didn't know much about Cusco before our trip there, only that it was the city you have to go through to get to Machu Picchu.  And while yes, it's the gateway to Machu Picchu for millions of tourist each year, it's also a fantastic and beautiful city in its own right.  I expected it to be touristy, but in fact, it's the complete opposite.  Cusco is a genuine and beautiful city, where Inca meets colonization.  Some buildings still hold Incan stones used to build them thousands of years ago, while others bear the marks of colonization and Spanish architecture.  We only had an afternoon in Cusco, but we were sorry we didn't have longer.  And while most people go through Cusco to see Machu Picchu, I'd go back just to spend time in this lovely city!
We happened to be there on a day that a festival was taking place and half the city had to be out in the streets celebrating.  We were blow away by the crowds and the infectious atmosphere, which made for even more of a celebration for us to enjoy Cusco!
What to See and Do in Cusco
-Wander the cobblestone streets and pet llamas along the way.
-Explore the Plaza de Armas
-Wander the San Pedro Market (another whole post coming on this!)
Traveling to Peru?
See all my posts on Peru!