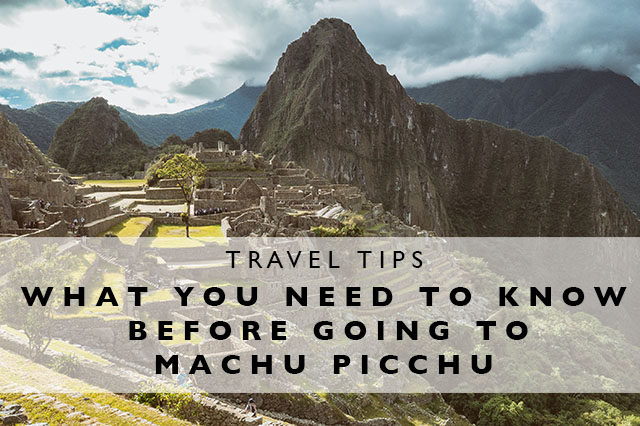 Machu Picchu… it's one of those places that seems only real in a fairytale.  And it is that magical in person and it is well worth a trip to see it for yourself, but it's also kind of a trek to get there.  And with so many questions about how to visit Machu Picchu, today I'm telling you exactly what you need to know before going to Machu Picchu and exactly how to get there!
Buy Your tickets Ahead of Time
You can't buy tickets for Machu Picchu at the gate, so be sure to buy them before you go.  We booked ours about a month before our trip through our hotel concierge but you can also do it yourself online.  Just beware, the website is a little tricky and a bit confusing.
How to Get There
So Machu Picchu is accessible only via rail and there is no other way to get there.  You have to go through Cusco, take a train to Aguas Calientes, then a 30 minute bus ride up to the monument itself.
Trains
You have a few different options for trains to Machu Picchu.  We rode with PeruRail because their times worked best for us but you can also ride with Inka Rail.  We took the PeruRail Expedition train which was quite comfortable.  Also note that the station in Cusco is not actually in Cusco; you'll leave from Poroy Station which is about a 35 minute car ride from Cusco itself.  We arranged transfer through our hotel which worked out nicely.
A separate note on our train experience – you should book your train tickets online before you go.  You will get an email saying to pick up your tickets at the train station office.  I read it as you could pick them up at least a half hour before your train.  In actuality, you must pick them up 4 hours prior to your train time, meaning for morning trains, you'll have to pick them up the day before.  We didn't know this and when we arrived at the train station in Poroy the morning of our train, we found out our tickets had been canceled since we hadn't picked them up and had to buy new tickets.  Luckily there were still a few seats available, but for future reference, be sure to pick them up the DAY BEFORE!
Buses in Aguas Calientes
When you arrive on the train, you'll be in Aguas Calientes, a small town at the base of the mountain where Machu Picchu is.  Most people stay here as there are lots of hotel options, though you can stay right at the gates of Machu Picchu at the Belmond Sanctuary Lodge which is what we did, but more on that later.  Once you arrive by train, you'll need to buy a bus ticket.  There aren't great signs pointing you to where you do this, but take the bridge over the river and then right below it will be a tiny hut that says "Official Bus Tickets."  Here you'll buy your tickets up the mountain.  It's $25 per person for a roundtrip and they take US dollars or Peruvian soles.
This bus up the mountain is rickety and bumpy, and if you are prone to car sickness, be aware of that up front.  It takes about 25-30 minutes to get up the tiny windy road.
Traveling to Peru?
See all my posts on Peru!