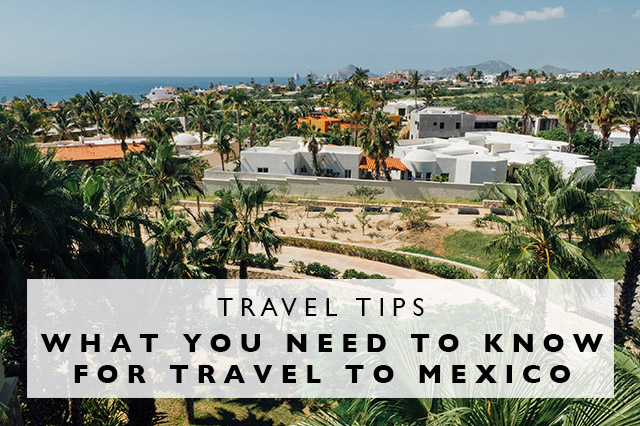 Before our trip to Mexico a few weeks ago, I spent one Saturday afternoon googling "travel tips for Mexico."  I'd only been once before when I was in High School with my family and obviously back then, I wasn't the one doing any of the planning or preparing, I was just along for the ride.  So this time, I wanted to find out basic tips for preparing for our trip.  I was shocked at how I couldn't find a true, just general tips post online.  So, after returning from our trip, I wanted to put my own true travel tips for Mexico post out there on the internet, so if you're looking to head that direction, here's what you need to know for travel to Mexico.
You can use American Dollars or Pesos.
At least in Cabo, everything was quoted to us in US Dollars, much to my disappointment.  Usually when foreign places quote in USD, it means they cater to a majority of Americans and usually their conversion gouges you a little, so whenever possible, pay in the local currency.  (This is the same in Europe by the way, when you pay by credit card and they ask if you want it in dollars.  Say no and pay in the local currency, you'll get a much better exchange rate.)  We had pesos with us on this trip, so we always asked what the amount would be in pesos, but have a quick idea of the conversion so you don't get ripped off.
Don't drink the water and be careful of where you eat.
This is an important one and one to even follow at the resorts.  We stayed at a really well known, high-end resort and we still got sick when we got home.  So whether in town or at the resorts, don't drink the tap water and be wary of ice when served it at restaurants.  As well, be careful of where you eat and what you order and make sure to bring some sort of medication with you in case you do get sick while there.
Bring bug spray and sun block.
For me, this is a really important one.  With Mexico's heat and humidity, that brings a lot of sun and a lot of bugs.  The first night there I didn't put any bug spray on and was getting eaten alive at dinner outside.  The following two days I coated myself both days and had no issues, so don't forget this!  Also, make sure to apply sun block regularly, the sun and heat is quite intense so protect your skin.
Bring clothes that breathe well.
My outfits ended up being ok, but to be honest, I wasn't at all prepared for how hot Mexico was in mid-October.  The heat and humidity completely wiped me out (it was about 104 one day we were there on the heat index).  So be aware of what the weather will really be like whenever you travel to Mexico and pack clothes that breathe well.  I had a couple things I packed that I actually never wore because they were thicker fabrics and I literally couldn't even handle wearing anything other than light cotton since it was so hot and we were sweating profusely.
Taxis are safe in resort areas, but still take caution.
In Cabo, we were told that taxis are safe in both San Jose del Cabo and Cabo San Lucas, though if you venture further away from resort areas, take caution.   A lot of places in Mexico are still not super safe for tourists, so just be careful and be aware of your surroundings.  Also know a decent sense of direction, so if you are headed in the completely wrong direction you'll know right away.  We had one taxi driver taking us back to the resort from Cabo San Lucas that started going in a weird direction away from the highway.  I asked him what was going on in Spanish and he then replied that because there as a big bike race (which there really was), that part of the highway was closed so we were catching it in a different spot.  At least then, I knew what was going on.  So with that, on to the next….
Know a little bit of Spanish.
I took Spanish all through High School and College and while I haven't used it in a while (other than our trip to Spain earlier this year), I can get by with somewhat broken Spanish when I need to.  I can understand a lot more than I can speak, so when traveling to Mexico, it's a great idea to either brush up on your Spanish skills or learn a little.  I was pretty surprised that even in such resort towns, a lot of people still didn't speak great English, so it was really helpful to know a little Spanish.
Ignore the pushy sales people + tourist traps.
Particularly in Cabo San Lucas, you'll encounter a ton of pushy sales people and tourist traps seemingly attacking you on the streets to use them for whatever it is they are selling, just ignore them and keep walking.  Restaurants will yell out at you to come in, ignore them or say "No Gracias."  If you feed into them at all, they will come on even harder, so ignoring them is the best way to handle it.
Headed to Mexico?
Take a look at the rest of our archives on Los Cabos here!