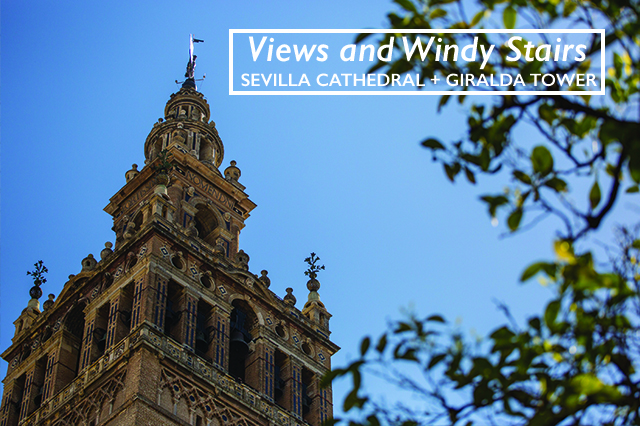 After taking in the dawn in Sevilla, we headed back to the hotel, slept a bit more and then got going to explore the city during the day.  Our first stop: the Sevilla Cathedral and Giralda Tower.  Our fantastic hotel was only about a 5 minute walk from this area, so we wandered the tiny streets until it let open into the lovely plaza in front of the cathedral.  We waited in line for about 10 minutes to buy tickets into the church and the tower, then took our time wandering through the incredible cathedral and its grounds.  Taking in the masterpieces of art and design as we went, we meandered our way to the entrance of Giralda Tower.  (Side note here: It was a heck of a climb to the top.)
The climb itself is not easy, curved uneven cobblestone stairs all the way to the top coupled with groups of school children pushing and shoving their way through the crowds climbing the stairs, but the views, oh they are oh so worth it.  Along the way up, there are little alcoves with incredible spots for views and a spot for a respite from the climb, so take advantage of those.  They are actually better views because you're in these small areas alone, without the mass of crowds like at the top.  But truly, the views from the top are really incredible too.  Looking out over Sevilla to see the white and yellow city emerge, with its bull fighting ring, the many apartments we remarked we would love to call our own, complete with iron balconies and flowers flowing over the sides; the views are simply stunning.
After we made our way down again, we were hungry and tired, so we stopped at the Estrella Dorada Bodega across the street for some of the best churros con chocolate we had our entire trip; the perfect way to rest and refuel for our adventures at the Real Alcazar later that afternoon.
A couple notes about the Seville Cathedral and Giralda Tower:
-You can buy your tickets ahead, which I would recommend if you're going during peak times of the year.  We bought ours at the door and had to wait in line for about 10 minutes but could have skipped the line if we had bought ahead.
-Be careful climbing the tower, the steps are curved and uneven and we had groups of school children pummeling through us, so take your time and walk carefully.
-After your visit, don't miss Churros and chocolate across the street at Estrella Dorada Bodega.
Traveling to Spain?
See all of my posts on the country!