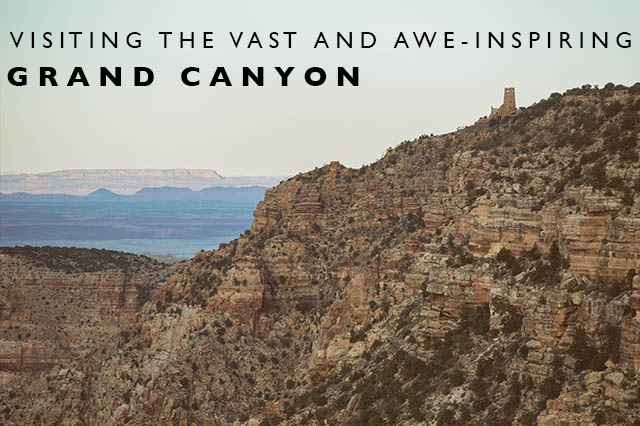 Neither Nick and I had seen the Grand Canyon before this visit.  People had told us you'll be amazed at how big it is, how grand it is, how vast it is.  And while driving in the Northern Arizona landscape, we saw a ton of vast canyons, incredibly huge rock formations and the whole area seems to just exude grandness.  So on the drive to the Grand Canyon, we kept saying "it can't be bigger than this can it?"  And let me tell you, nothing can quite prepare you for the "grand-ness" of the Grand Canyon.  It is very aptly named and I was blown away.
It's pretty easy to get to the South Rim of the canyon, you'll pay an entrance fee for the park and then you're on your way.  We stopped at the first couple lookouts to find one we wanted to stay at for sunset and from the first stop, we stood in awe of what was before us.  I've never seen anything like it, the vast canyon, multiple canyons on top of canyons, stretching miles and miles long and miles and miles wide.
We found a spot we liked at one of the look outs and set up to stay there for the sunset.  What I found most striking about the Grand Canyon wasn't the sheer size of it, but the way the colors seemed to change as the light changed and the detail in the formation of it.  Millions of years old, the canyon seems to have a world of its own, a momentum of its own.  As the sun started to fade beyond the walls of the canyon, the colors really started to amaze me.  Once red or orange-ish canyon walls turned to purples and blues, enhanced by the green fauna and the blue water.
There is a reason why it's is so famous and why visiting the vast and awe-inspiring Grand Canyon is a must for so many people: it truly is an incredible sight to behold and one that seems to overwhelm the senses and show us that our Earth is truly a remarkable place.