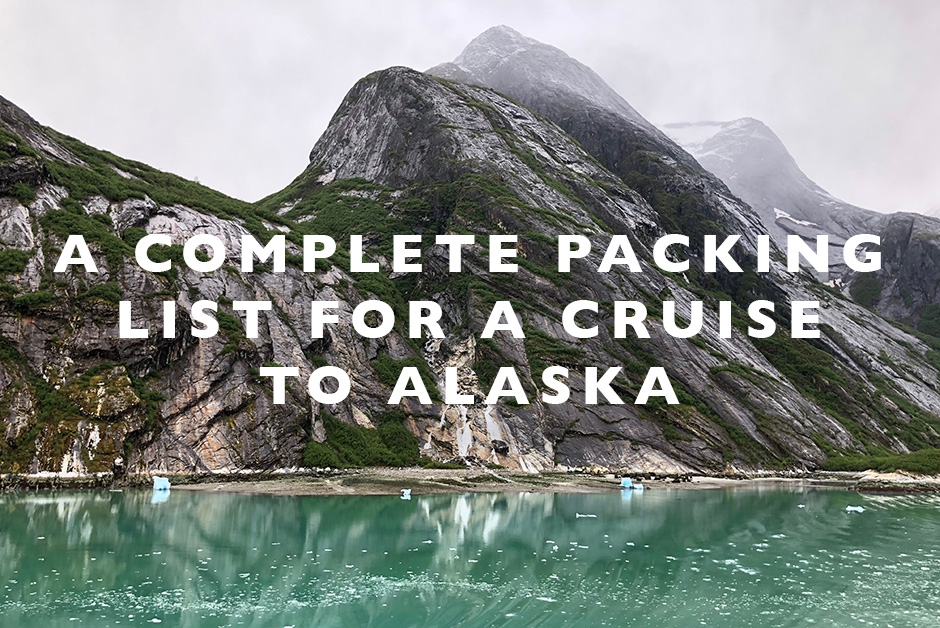 I'll admit, packing for our cruise to Alaska was really hard for me.  It wasn't so much what was needed for Alaska, I've been there before and knew generally what I'd need, it was the ship stuff that was harder for me.  When we travel, we usually don't go out to fancy dinners and don't need a lot of dressy clothes.  For the cruise, I needed not only outfits for Alaska and exploring, but also dinner outfits as well as clothes for around the ship on sea days.  Plus there were random things we needed for a cruise that were different than we'd normally pack as well.  It was a little daunting packing for this trip, but in the end, I narrowed it down to a complete packing list for a cruise to Alaska so if you're headed on a similar trip, here is a complete list you can check off to make your packing easier!
Packing List for a Cruise to Alaska
Clothes:
2 Formal Dinner outfits (I have a post coming about this next week!)
2 Semi-Formal Dinner outfits
1 Flannel button up shirt – I wore this around the ship and it was perfect
1 pair of leggings – I wore these around the ship as well as layering under my pants for warmth on outings
1 pair of jeans
1 pair of cargo pants / outdoor pants – These are a great option.
1-2 waterproof jackets (make sure they really are waterproof!) – This is a great option.
1 Hat / Ear Muffs
1 pair of gloves
1 Patagonia Fleece pull over – I found this a really versatile piece to keep me warm in any cold climate
2 Long Sleeve T-shirts – I could wear these around the ship or under my Patagonia fleece to keep me warm
1 Down Puff Vest – I bought a J Crew version of this vest years ago and it's the perfect layering piece over a sweater and under a raincoat to add an extra layer of warmth
1 Sweater – I packed a white cable knit sweater that I could wear on the ship or out under a raincoat when we were in port
1 Backpack – I bought an Anello backpack in Japan in March and it's become my favorite travel bag and was perfect for this trip
1 Pair Waterproof boots with a rubber sole (insulated if possible) – I brought both my rubber rain boots as well as my Uggs Waterproof insulated boots (that I last wore in Iceland) and ended up really only needing the Uggs.
1 Pair Converse (or other sneaker type shoe) – I wore my converse around the ship and in port when it wasn't raining
1 Pair of Dressy Shoes – I brought a pair of dressy black flats that went with all my dinner outfits
1 Clutch/Dressy Purse for Dinners – You'll want a small clutch or purse to bring to dinners and I brought a glittery clutch I already had that went with all my dinner outfits
1 Swim Suit 
1 Pair of Sunglasses – When it's sunny, there can be a bad glare at sea so bring sunglasses
Miscellaneous Items:
Nightlight – the Cabins can get really dark so we brought one of our little wall plug in nightlights to help us navigate in the pitch black at night
Power Outlets – Our cabin only had 2 power outlets, so we brought an adaptor that adds a bunch more and it was super helpful
Adaptor Cord for the TV – If you want to watch your own shows off your iPad or iPhone, we always travel with an adaptor cord to plug into the TV so we can watch anything on there
Heat Packets – While I didn't actually end up needing these, I brought with me instant heat packets in case we were out and about on an excursion and it got really cold
Cash in small Bills – Some of the ports require you to take a shuttle or tip people, so bring cash in small bills
Passports – You'll need your passport on this cruise as you go through Canada on the way back
Are you headed to Alaska?
See more of our Alaska content here!