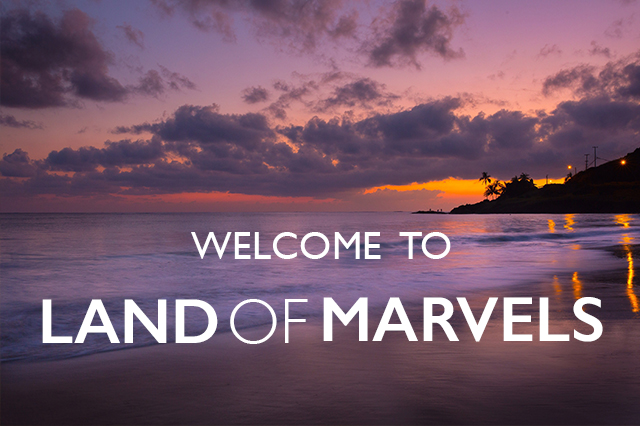 If you noticed, things are a little different around here!  True Colours is now Land of Marvels and I couldn't be more excited about this new chapter.  I've been thinking about a name change for about 6 months now and back at the end of the Summer last year, I came across an advertisement in a magazine with the Jules Verne quote "You are going to visit a land of marvels," from Twenty Thousand Leagues Under the Sea.  The quote struck me instantly, referring to heading out on a journey into a land of marvels.  That couldn't be more true about travel in general and exploring this beautiful world we inhabit.  And so from there I started thinking about what I wanted Land of Marvels to be, to put a design together that I feel like captures this new chapter for me and for this blog and website.  And so here today, I am launching my new ideas and I hope that each of you loyal readers will enjoy the journey ahead of us!
Land of Marvels will continue to house all the things you loved about True Colours; it will be travel themed, it will still have daily posts about my travels around the world, travel tips to help you travel better, posts about the state of our world and world issues that affect us all and the honest truths I've come across while I travel.  It will still have Nick's beautiful photography and all the things that made True Colours what it was for 4 years but the time has come to expand my horizons, to open up this site to new possibilities and to help even more people aspire to travel more and to be a resource for planning your very own travels.
You'll notice this newly designed site (thanks Amanda!) has a few different features than the old one did and I can't wait for everyone to look around and explore!  The idea of Land of Marvels going forward is that this site will be much more than just a travel blog; it will be an online travel resource and guide for you to explore and plan your own travels wherever that may be.  In the coming months I will be launching both printable travel guides for cities all around the world, travel itineraries for you to download and use as planning guides for trips you plan to take and a custom Land of Marvels Photography shop where you can download your favorite photos that I post on the site here.  My hope is that Land of Marvels will become your source for travel inspiration and travel planning, that you will not only find the inspiration needed to go after your own dreams here on these pages, but to put those dreams into action and plan your own adventures with the help of the travel information you'll find here on Land of Marvels.
And so today, we embark on a new chapter, a new direction.  I am so excited for what's to come here on Land of Marvels and I am so thankful to have each and every one of you reading this along for the adventure to come.  I can't say enough how thankful I am each and every day for my readers, for those of you that take the time out of your busy days to come here and read what I have to say and so today, with this exciting launch of Land of Marvels, I'm so appreciative of you and so excited to have you along for the ride!  Happy exploring!