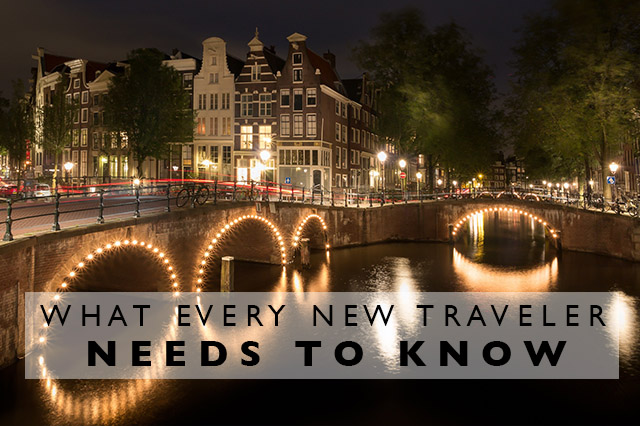 Travel is beyond a shred of a doubt the best thing you can do for yourself to broaden your horizons, to educate yourself and to see with your own eyes this world that we inhabit.  It's life-changing, mind-blowing, breath-taking and surreal to travel and visit places that we read about in books, to see the stunning beauty of this planet we call home, to stand in front of the landmarks that we dream of, and to take it all in, moment by moment.
But we all start somewhere and after years of traveling and seeing a lot of the world, it's also important to remember what it felt like to just be at the beginning of the journey of travel, so here's what every new traveler needs to know before you embark on the journey of a lifetime.
Open Your Mind and Your Eyes.
There is no point in traveling if you aren't going to take everything in like a sponge.  Traveling will open your mind and eyes to things you never even thought about.  Don't judge.  Take it all in and process everything you learn as you go.  Remember we're all in this together and while other places might do things differently, that doesn't mean it's wrong.  Don't shelter yourself to not see everything, take it all in and leave having your mind and spirit opened.
Feel Every Moment, the good and the bad.
Travel won't always be amazing; you'll have incredible moments and you'll have not so amazing moments.  You'll have good days and bad days, but one thing I'll always believe in is feeling every moment as much as you can, good or bad.  Feel those moments when you are falling so deep in love with a place that every fiber of your being is tingling, or those moments when you see the Taj Mahal as sunrise, beneath a blanket of fog and you suddenly realize you are actually standing there in India, in the midst of such a unique experience you can hardly believe it.  Feel those moments.  But also take in the moments nothing is going right, when you luggage is lost or you take a wrong turn and are horribly lost.  Those moments define us just as much as the good ones, so make the most of them too.
Embrace the Unexpected.
Travel is all about the unexpected, and without a doubt, no matter how much you plan, things will come up that you weren't expecting.  Embrace that.  Some of my best moments traveling happened when we decided to take a turn that we had no idea where it went or when you randomly decide to get up at 3am and drive out to a waterfall in Iceland amidst the Midnight Sun.  Embrace those unexpected things that come up, they will be the memories you remember most.
Take Chances.
Maybe you choose an exotic destination over a more common one or maybe you decide to book a flight a week before it leaves.  Whatever it is, take chances.
Don't Let Fear Control You.
We all get scared.  Even after all these years of travel, I still get a flutter of fear before that plane takes off or when I book a trip that is a little outside of my comfort zone.  The goal is to not let that fear control you, don't let it influence your decisions, don't let yourself be driven by it.  Fear is good, it helps us know what scares us, but use it as a guide and not the driving factor.  Travel puts us outside our comfort zone and that can be scary, but if you let go of that fear, you'll embrace everything deeper and find that you are stronger than you think.
Go beyond the guidebooks.
Guidebooks are great.  I use them myself.  But to a point.  You'll never have the tiny alleyways of Amsterdam in the guidebooks or the off the beaten path restaurant in Siem Reap, Cambodia that served me one of the best meals of my life.  Use the guidebooks for research, but then let yourself explore on your own and allow yourself to get lost, to see what the guidebooks don't show us, to get off the beaten path and have a journey unique to you.
Rest.
Travel is exhausting.  Jet lag, time changes, long flights, there is really no way around the tiredness.  Except to take care of yourself and rest too.  When we travel, we might be out from 7am (or earlier if we go out for the sunrise) until 7pm at night, but I'll be in my hotel room bed by 8pm and sleep the whole night.  Don't book yourself so full that you don't get a good night's rest.  You'll see everything more deeply if you're rested.
Understand What You See that Isn't Right.
There are still many places in our world that allow horrible things to happen around us.  Women are treated horribly in many places, children are forced to beg on the streets, poor men are stuffed together in hot buses with no air conditioning.  I've seen a lot of horrible things over the years of traveling.  I've seen wealth disparity that shock me, I've seen rights of some be completely overshadowed by other for no other reason that gender or social class.  Travel is about understanding our world, about seeing the things that are sometimes hard to see, about seeing what you can do to make a change or a difference, and then to understand that what you see isn't right.  We might not always be able to do something in the moment, but we do have our voices and we can voice what we see and know that it isn't right.
Don't Compare.
You're traveling to see something different, to see how others live around the world.  So don't compare.  Everything is unique for a reason, people do things differently all around the world, that doesn't mean anybody is better than anyone else.
Keep a Wild Heart.
The mark of a traveler; no matter how much I travel, my heart gets wilder.  Keep that passion, that drive to see more, to meet more people, to feel more moments.  That wild heart, that passion, that's what will drive you, what will push you to understand the world and this incredible planet that we are so lucky to call home.