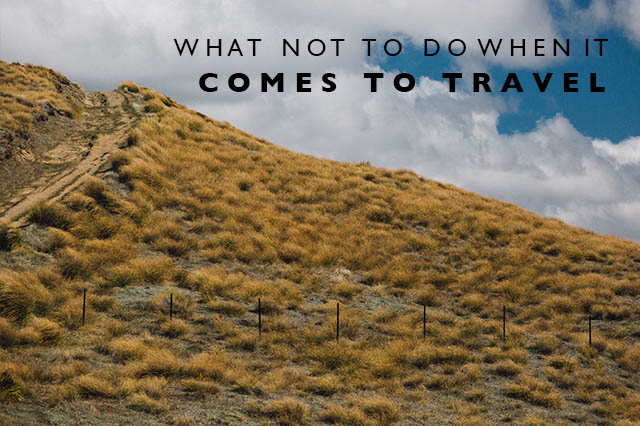 There is always a long list of things to DO when traveling and the list to prepare for a trip can be endless.  But on the other hand, there are also lots of things that you really shouldn't do when traveling – whether it's make it safer for you as a traveler or things that just make your life easier when on the road or in the air.  So as the opposite to do list for travel, here is what NOT to do when it comes to travel.
Not doing the research.
Some people like to wing it when it comes to travel, I am not one of those people.  But whatever group you fall in to, there are often times when doing the research can make or break a trip.  At least have a general idea of necessary research before heading off on your travels and it will end up going that much smoother.
Not reading reviews.
I ALWAYS read reviews of hotels and new airlines before traveling somewhere.  With a wealth of information from people all over the world with a click of a button, there is really no reason anymore not to read the reviews… it will save you a heartbreak later.
Not having clothes in a carry on.
There is too big of a chance of lost luggage or flights getting canceled and rescheduled, not to pack at least 1 change of clothes in a carry on.  Personally I am a big believe in carry on only always, but when that isn't possible, be sure you have at least one change of clothes and your toiletries with you… ALWAYS!
Using your cell phone with a plan through your carrier.
Thinking you can just jet to Europe, turn your iPhone on and have it work like at home for the same rates?  Guess again.  I've heard horror stories of people getting thousands of dollars in roaming charges without having an International plan – so be safe, add an International phone and data plan when you travel or get a local SIM card and pay as you go.
Not getting cash from your bank before you leave.
I hear travelers all the time that are still getting local currency when they land someone and it's such a waste of time and money.  You'll always pay fees and probably not get as great as an exchange rate than if you get it from your local bank before you leave home.
Not getting a necessary visa.
There are still lots of countries that require a visa and many still that require you to send in your passports for a month or so to get it.  That terrifies me but is often a necessary step.  So do your research and know if the place you're going requires a visa for your nationality – you don't want to show up at Immigration and be turned away after all that way.
Drinking the water when you're not supposed to.
If you're in a country that says not to drink the water, don't do it anyway thinking it will probably be okay.  Even at resorts that filter the water, I always err on the side of caution and drink bottled water.  If the locals don't drink it, you shouldn't either.
Not having paper copies of reservations.
I can't tell you how many times I've been somewhere and when they can't find my reservation, I can pull out my paper copy to show them a confirmation number or some other piece of information.  Don't travel without printing off all of your reservations and keep them handy while traveling.
Paying foreign transaction fees on your credit card.
With so many credit cards offering chips and no foreign transaction fees now, it's no question that you don't pay all those unnecessary fees.  Don't be the one person on the planet without a credit card that doesn't charge you to travel.
Having too high of expectations.
I've done this too many times myself, but don't make your expectations so high that the destination doesn't live up to your own hype.  Let yourself enjoy the destination without expecting so much of it and your trip will always be that much better.
Not paying for the rental car insurance.
If you aren't 100% sure that your credit card covers enough rental car insurance for you (some do, others are actually horrible coverage), always buy the insurance.  The peace of mind for a little bit extra is well worth it instead of coming home from your trip owning Hertz thousands of dollars.
Expecting it to be like home.
The biggest mistake even the most seasoned travelers can make?  Expecting a destination to be like their homes or have the same offerings that their home has.  Let the destination be itself without expecting it to be like somewhere else and learn to embrace the differences!