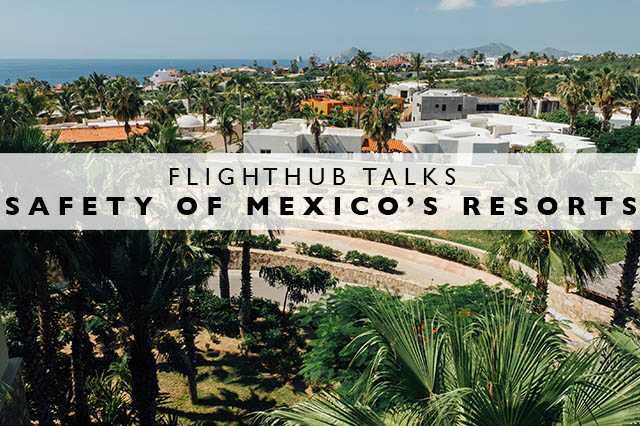 After our recent visit to Mexico last Fall, I was curious to find out more about the wonderful country that borders my own.  And while I know general information about Mexico from various sources, I was interested to dig a little deeper and find out about the safety concerns that seem so prevalent in our news sources in the US.  So when I was contacted to see what FlightHub had to say about the safety of Mexico's resorts, I was happy to find out more about the wonderful country that is Mexico!
While much has been said about the safety and security of Mexico, a lot of it is quite overblown when you consider where people vacationing tend to visit. While issues in rural areas, largely near the Northern border region have been reported across many mainstream media outlets, the same level of security is not required if you choose to visit many specific regions of the country. Keith Holland spoke with FlightHub, a North American online travel agency, about the situation. FlightHub reviews advisories and warnings worldwide as a means of informing clients of specific security threats abroad. They told him that there are actually only specific areas to avoid in Mexico, with much of the country being very secure and safe to visit at any time of the year.
Mexico In General
Good news. Most areas that are heavily frequented by tourists and travellers are considered 100 per cent safe. Cities like Mexico City, Campeche, Chiapas, Guanajuato, and other tourism oriented cities are all as safe as a city can be and come highly recommended by FlightHub to visit. In fact, according to FlightHub, Cancun remains one of the most popular destinations in the world, with bookings in 2016 trending around the same level as 2015.
Northern States 
If you are travelling into and out of Mexico from the United States it is highly recommended you fly. This is because the border region with the United States is considered a very high risk area for travel due to confrontations between organized crime elements and authorities. While violence can break out, it is often situations like illegal road blocks that can lead to robberies, kidnappings, or worse. The states in Mexico most at risk include Chihuahua, Coahuila, Durango, Nuevo León, Sinaloa, Sonora, and Tamaulipas. This is amplified in larger cities, where travel at night is considered very high risk and visiting them at all comes unrecommended unfortunately.
Western States
While considered generally safer than Northern states of Mexico, many of Mexico's Western states require a high degree of caution. For many of the same reasons listed previously, states like Guerrero, Jalisco, and Michoacán are not recommended for travel.
Overall, FlightHub says that travel to Mexico is still very worthwhile when done safely. And luckily for you, most of Mexico is open season for those looking to explore its unique history or just park on a beach and relax. The key to remember is that Mexico is best travelled to by plane, and that resort and destination cities are fair game for your next vacation!
*This post was written by supporters of Land of Marvels.