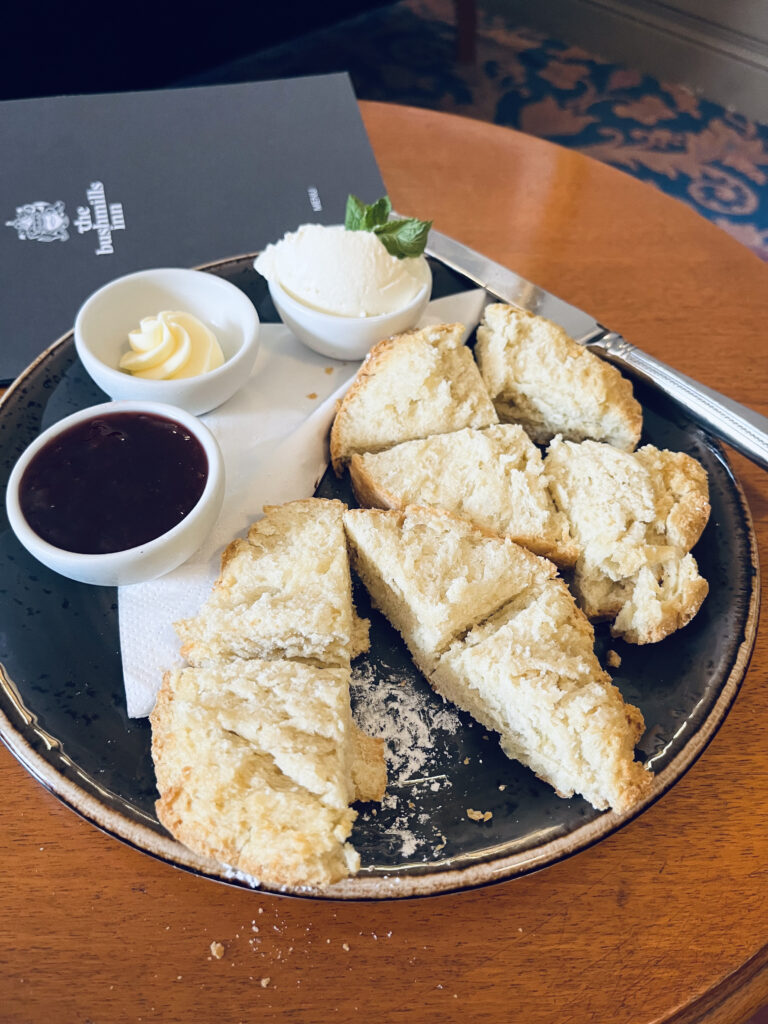 If you know me personally, you know I love to eat.  The joke always is while traveling, all I do is stop to eat and I love experiencing new foods around the world.  And Ireland is no exception!  I happen to love pub food so the food in Ireland is right up my alley.  If you're headed to Ireland for the first time and not sure what to try while there, here is what to eat while in Ireland and leave happy!
Guiness – You can't leave Ireland without a Guiness!  This dark beer is actually my go-to beer even at home but while in Ireland, you have to try this dark stout made famously in the Emerald Isle.
Scones – I love British and Irish scones and it's something I try to enjoy every time I'm in that part of the world. While I'm dairy-free in my daily life, and there is definitely dairy in scones, I try to limit myself with them but a great scone is pretty hard to beat!
Irish Stew – Whether sunny or rainy, I can't resist a beautiful, delicious Irish Strew.  Made usually with lamb and vegetables, this thick soupy stew has a home-y feel that is so unique to Ireland.
Sticky Toffee Pudding – My all time favorite dessert in this part of the world, Sticky Toffee Pudding is one of those things that never really jumped the pond and I have no idea why.  Made from dates, this incredible dessert is so good and if it's on the menu, I'm always ordering it.
Sausage Rolls – We had a family lunch one day while on our trip with some of our relatives that live in Northern Ireland and when we sat down to see sausage rolls on the table, I immediately grabbed several.  Irish sausage wrapped in delicate puff pastry, these are one of my favorite things to eat.  I get them at my local British pub near my house in Portland but there is nothing like them in Ireland or the UK if you're there.
Irish Breakfasts – At home, I'm not a big breakfast person but when in Ireland or the UK, I can't help but dig into a big Irish or English breakfast plate.  The roasted tomato, the beans, the way the eggs are fried in Europe… I love it.
Irish Tea – You have to sit down and have a few cups of Irish tea while in Ireland!  And even if you're dairy free like me, they have oat milk everywhere.  I make my tea with oat milk and a little sugar and it's easy to just sit for hours sipping tea and enjoying the view!
Traveling to Ireland?
See all of my posts on the country!