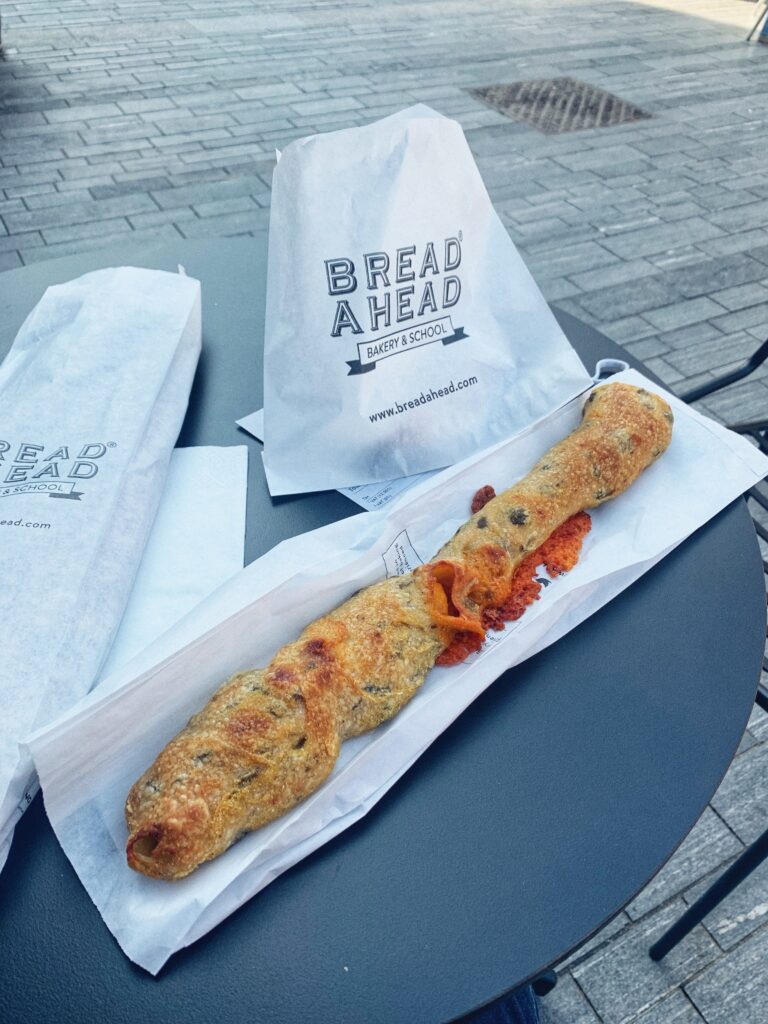 London is notorious for being a pretty expensive city and that includes some world renowned restaurants that are pretty pricey and require reservations. And while I'm super excited to splurge on a great meal every now and then, there are actually quite a few places that are amazing to eat at in London, without reservations and without the exorbitant costs.  Here are some of my favorites for where to eat in London without reservations and without the huge bill!
This little lunch spot has several locations through London and has quickly become one of our favorites.  Nick loves their sourdough bread sticks and most of their locations have sandwiches and pastries that are all delicious.  I especially love their Borough Market and Sloane Square locations.
For a great coffee and pastry for breakfast, this spot in Sloane Square is perfect.  Grab a table outside on a lovely London morning and sip an oat milk latte and watch the city come alive.
One of my all time favorite bakeries in the world, Fabrique is a Swedish bakery that has locations around Europe and a few in New York City.  And if I'm in a city where there is one, we're going!  The Swedish cinnamon buns at Fabrique are so delicious and couple that with a great oat milk latte, there is nothing better.  London has several Fabrique locations now so pick one in whatever neighborhood you're in and enjoy!
One of my favorite low-key Indian restaurants in London, we first started going here when we started staying at the Ampersand Hotel as our go-to hotel in the city.  Khan's of Kensington is right across the street from the hotel and we have gone back almost every trip to London since.  The food is delicious and the ambience is great and better yet – you usually don't need a reservation.  For great Indian food in South Kensington, this is the spot.
Pubs
The Brits are famous for their pubs and no trip to London would be complete without some pub food.  My advice for pubs is to find the more local spots instead of the ones in the tourist areas as you'll get better food and lower prices.  The secret to British pubs if you've never been – upon entering you order at the counter.  Don't sit down at a table and expect someone to come to you to take your order.  Grab a table, check the table number and then head to the counter to place your order.
On our last night of vacation in London this past trip, we were really craving some great Spanish food.  We looked at what was near us and found this amazing little spot, Casa Manolo in Chelsea.  The food did not disappoint and the ambience was great too.  We ordered a pitcher of sangria, a bunch of tapas and just generally enjoyed the evening as if we were in Spain.  This was a great easy spot to have a lovely dinner in Chelsea!
This Notting Hill Italian restaurant might get super busy in the late evening hours but for an early dinner or a late lunch, this spot is fantastic and doesn't require a reservation.  The food is delicious, the design of the restaurant beautiful and it's perfect for a nice, slightly up-scale meal without the hassle of reserving a table as long as you go early in the afternoon.
With multiple locations throughout London, this ramen spot is delicious and perfect for a low-key meal.  I'm pretty picky about my ramen but this was a legit bowl of Japanese ramen and paired with karage, we had a delicious lunch at the Carnaby Street location.
This spot has incredible Indian food and with a couple locations, you won't be disappointed!  There is usually a line but it goes fast so put your name on the list and wait because the food here is incredible.
This is an amazing breakfast/brunch spot and with a couple locations through London, it's worth whatever the wait time is.  Their eggs are out of this world!
Headed to London?