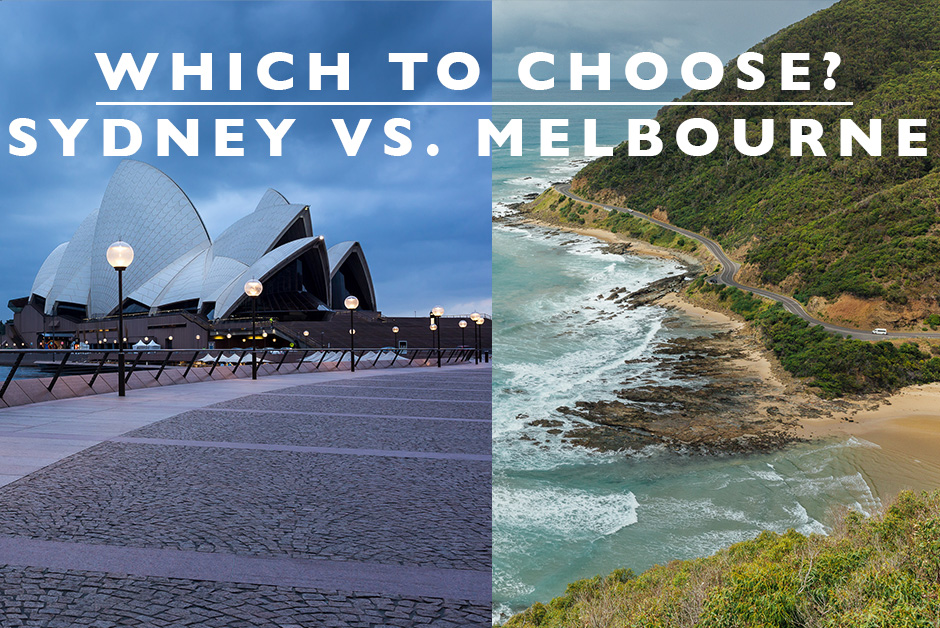 I often get the question, if you had the choice to travel to place A or B, which would you choose?  Or do you think I'd like place A or B better?  And to answer that question, it really depends on the destinations you're looking at choosing between.  There are some cities that many people try to choose between if you only have one opportunity to head somewhere so if you end up having to make that choice, here's how I'll best help you decide in this Land of Marvels series.
So, you're headed to Australia and you're wondering if Sydney or Melbourne would be a better choice for you to explore and base yourself?
Well… both are incredible cities but if you can only pick one, here's my best information to help you choose!
Choose Sydney if you…
Love water – the city is surrounded by water and beaches!
Want spectacular city views – hello Sydney Opera House and the famous Sydney Harbour Bridge
Want to see the famous Sydney sights – Manly Beach, the Opera House, the Sydney Zoo… all famous for a reason!
Like more of a cosmopolitan environment – Not that Melbourne isn't a big metropolitan city too, but there is something about Sydney that just feels enormous
Want a few more tourist things to do – Sydney is the most famous city in Australia so there is naturally more to do here than Melbourne as far as tourist sites go
Need a base to fly somewhere else – The Sydney airport has flights to just about everywhere on the planet so if you're just stopping through and ultimately headed somewhere else, this is probably the spot for you!
Choose Melbourne if you…
Want to explore the natural parts of Australia – The famous 12 Apostles Beach and landscape is incredible as you drive along the Great Ocean Road and it's only a couple hours outside of Melbourne.
Want a more local Australian city feel – Melbourne feels a bit more local than Sydney and you'll get a more authentic experience here.
Like parks and open space – Melbourne is full of them!
Want a more European feel – The city is a bit more "antique" looking than Sydney and has a European vibe.
Want a slower pace – Even though it's about the same population as Sydney, the vibe in Melbourne is a little lower key.
Could spend hours wandering – Melbourne seems a little less intimidating than Sydney, so if wandering on foot is what you're looking for, this is probably for you!