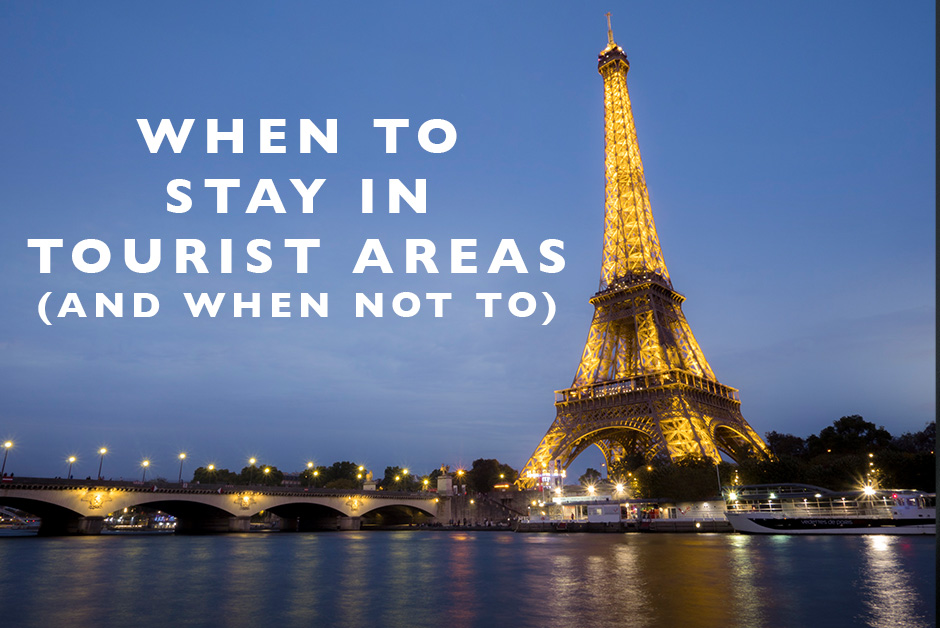 As a seasoned traveler, I've stayed in my fair share of hotels in different cities around the world.  And I've learned (sometimes the hard way) that every major city has a different way it's laid out which brings travelers the option of staying within the main tourist areas of the city or not. Sometimes, in certain places, it's well worth it to stay within those busy tourist areas for a handful of reasons, while other times in other locations, it's worth getting a bit away from those area when booking your hotel.  Here are my suggestions for when to stay in tourist areas and when not to!
Where to Stay in the Tourist Areas
Paris – I personally like to stay a bit closer to the tourist monuments in Paris so that you're able to walk everywhere you need, but I'm partial to which monuments to stay close to and which not to.  I try to avoid the Champs Elysees as much as possible and tend to prefer staying closer Notre Dame near the Ile St. Louis.  That location is near some of the best tourist attractions in Paris but also close to a lot of local areas too and it's central enough to walk everywhere.
My suggestion: Hotel Le Notre Dame
Barcelona – Barcelona is one of those cities that I think is best to be in the center of the action and stay somewhere really central to the tourist areas.  I've stayed right off of Las Ramblas as well as right next to Sagrada Familia and both were excellent locations to see everything but also see some of the local areas too.
My suggestion: Room Mate Gerard Barcelona
Sydney – Because Sydney is so famous for its views, I opted to stay right near the Sydney Opera House and Bridge and it was well worth it.  Especially because it takes so long to get to Australia, you want the best view possible when you get there and staying right in the tourist area here was a win.
My suggestion: Four Seasons Sydney
Stockholm – Stockholm honestly feels like a small town within a large city and because of that, staying close to the main train station and Gamla Stan where most tourists will be is still a great choice.  Plus when you're so central, it's easy to walk everywhere!
My suggestion: Sheraton Stockhom
Edinburgh – Edinburgh's Royal Mile is full of tourists but in my opinion, it's still the best place to stay in the city!  You're close to a ton of great shops and restaurants, close to the train station and because Edinburgh is still somewhat underrated in my opinion, you won't have super horrible crowds anyways.
My suggestion: Hilton Carlton Edinburgh
Where Not to Stay in the Tourist Areas (and where to stay instead!)
Amsterdam – My visits to the famous Dutch city have been some of my favorite trips ever and after staying in a few different locations over the years, I think my favorite is to stay in the Nine Streets versus staying in the central tourist areas near the Palace and train station.  I prefer to get away from the train station area and get closer to the canals which offers a much quieter, more local atmosphere.
My suggestion: Pulitzer Amsterdam
London – London is one of those cities that can get quite chaotic and it's at its best in my opinion when you get into the quieter neighborhoods.  I personally love Bloomsbury or South Kensington to stay and actually any of the neighborhoods that border Hyde Park like Notting Hill are great too.  They offer the charm of London without the chaos of staying in the major tourist hubs.
My suggestion: The Ampersand
Tokyo – Tokyo is really spread out and you'll be taking the subway everywhere anyways, so my favorite spot to stay in Tokyo is right at the main Tokyo train station so you have easy access to the subway to go wherever you need to go!
My suggestion: The Tokyo Station Hotel
Rome – Rome is crazy chaotic in the main tourist hubs and can often seem very overwhelming.  I much prefer staying a bit off the beaten path in Rome to have a more local Italian vibe.
My suggestion: Hotel Indigo Rome
New York – New York is similar to Tokyo is that there are so many neighborhoods to explore that you'll be taking the subway around anyways, so it doesn't matter as much to be right in the center of, say, Times Square.  It's better actually to find a spot more off the beaten path in a neighborhood you like and take the Subway wherever you need.
My suggestion: I'm trying out a new hotel in March, The Arlo Soho, and hoping it will be great.  I haven't found my favorite NYC hotel yet but keep an eye out for my review of this one!
Hong Kong – Hong Kong has a famous and beautiful skyline and if you stay in the tourist central areas, you won't really get a glimpse of it at all since you'll be in it!  I prefer to stay a bit out of the way in Hong Kong and Uber wherever I need to go, plus you'll get beautiful views of that famous Hong Kong skyline.
My suggestion: Kerry Hotel Hong Kong