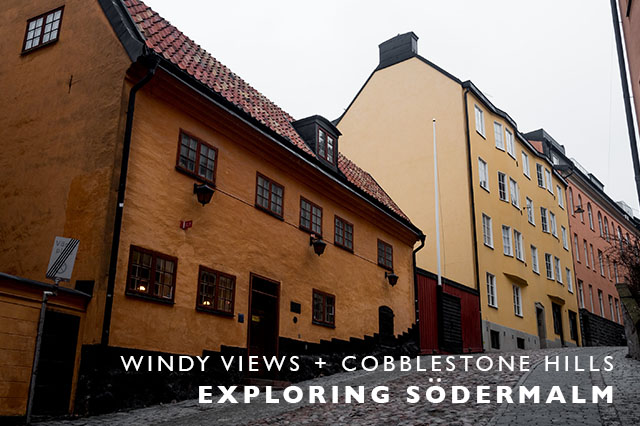 After Gamla Stan, we crossed the bridge over to the Södermalm area of Stockholm, a much more local area but one that I had read had some incredible views of the the city.  This area is really hilly and to get the best views you have to climb, but once you're up at the top, it really is an amazing place to take in all of Stockholm.  We headed up to the views from the Eriks Gondolen restaurant, which though closed at the time, still offered amazing views over the city.
After braving the very windy climb up and down for the views, we headed further into Södermalm for something we were really looking forward to: Swedish Meatballs.  We had found a place online called Meatballs for the People and it looked good, so we headed in that direction and I'm so glad we did.  The place was local and quaint and so delicious!  Nick opted for the special of the day which was reindeer meatballs in a red marinara sauce and I opted for the classic option, lamb meatballs, mashed potatoes and gravy.  Both were divine!
After lunch, we headed back to our hotel at the Sheraton Stockholm but meandered on our way through the back roads of Södermalm, enjoying the local Swedes out for an afternoon of shopping or lunch with friends and family.  And while freezing cold and insanely windy during our time in Stockholm, we fell hard in love with this city!  Stockholm is for sure a city I'd go back to and explore further, from the cobblestone streets and colorful buildings to the amazing food and people, Sweden is a must see as part of your European travel list and a stop in Stockholm should be at the top!
Headed to Stockholm?