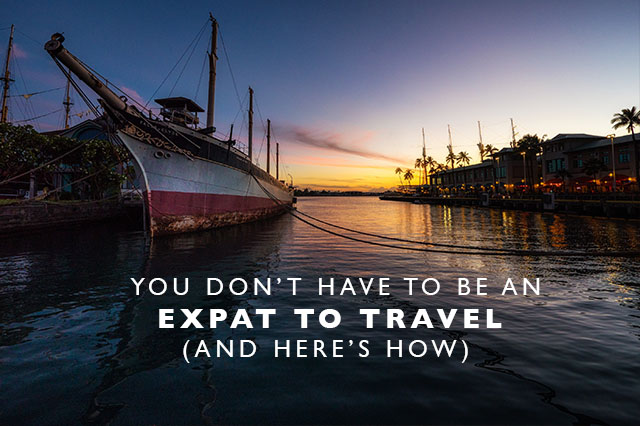 Do you ever notice that a huge majority of travel blogs out there are written by expats, living abroad and traveling all the time?  And not to say they aren't great, many of my favorite travel blogs are written by expats (and I even grew up as an expat kid) but I also think there is this misconception that you can't travel extensively or often if you're not an expat.  I am an American living in America and I travel all the time, near and far, and I'll tell you first hand, you don't have to be an expat to travel.  I should note also, that I think everyone should live overseas at some point in their life because it's a very rewarding way of life, however, I also realize it's not feasible for everyone so today, I'm here to tell you exactly how to travel, even if you aren't an expat!
Distance is Relative.
The first thing most people say about travel is that it takes a lot of time.  And perhaps if you're an expat in Europe, it's easy to take a weekend to explore a new location.  Let's say you arrive somewhere late Friday night and can head home Sunday evening.  Well here's the thing, distance and time is relative.  So while it might take a little more time to get overseas from the US, it's still totally doable for a weekend adventure.  For example, from Portland to Iceland is only about 6.5-7 hours (that's just a tiny bit longer than it takes to get to Hawaii from the West Coast.)  So say you fly Friday night and arrive Saturday morning, then leave Sunday evening, with the time difference you'll still get back home Sunday night.  So while yes, you may be a little jetlagged (but probably not since it's so quick), weekend travel from the US to Europe is still totally doable.
You can still find cheap flights.
Another great thing about living overseas: access to cheap airfare, especially in Europe with carriers like Ryan Air and EasyJet.  But here's the thing, the US has been quietly adding lots of amazing overseas low cost carriers to it's roster of airlines to escape on.  Airlines like Condor, Norwegian Air and WOW Air offer insanely cheap fares from the US to Europe.  I got an email from Condor the other day that they were offering $139 fares for a one way from Portland to Frankfurt!  Seriously.  I can't even get to LA for that sometimes.  WOW Air offers $99 flights to Iceland often and we just booked a roundtrip from LAX to Stockholm for only $370 on Norwegian Air.  So cheap flights are still available, you just have to do the work to find them.
There are also amazing places closer than you think.
One of the amazing things about being an expat is having amazing destinations just hours from you.  However, keep in mind, whatever country you live in, there are amazing and interesting places close to you.  As Americans, we tend to discount our own country with this and want to head abroad, but oftentimes there are lots of amazing destinations within close proximity to where you live.  Don't forget about exploring nearby because many times those places are just as amazing as some far off destination.