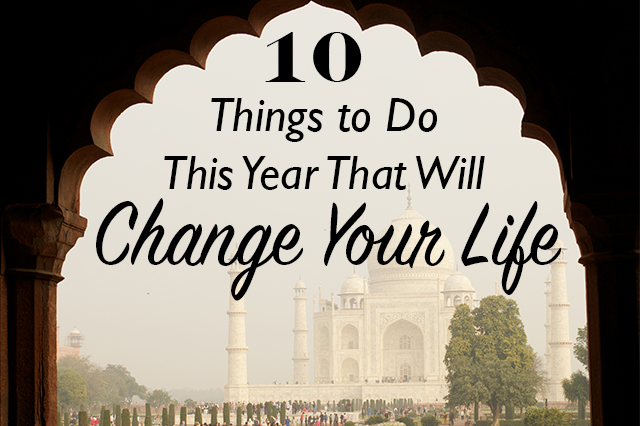 Happy New Year!!! It's the age-old adage to make resolutions for the new year ahead, to look forward and make goals for yourself to accomplish.  But, I know for me at least, as much as we want to keep them throughout the year, often times life gets in the way and things come up, leading us off that goal-oriented path.  So this year, as we look forward to the new year ahead, instead of making resolutions, maybe it's better to just make plans.  Making plans is so much more concrete and holds us to do those things that might scare us, that might push us out of our comfort zones but that ultimately make us better people and better citizens of this world.  So this year, here are 10 things you should plan to do that will forever change your life!
1.  Visit a country you've never been to before.
Whether this means driving over the nearest border of a country near your own (i.e.. Canada from the States) or traveling abroad for the first time, you'll never regret this decision.  Seeing a different country will open up your perspective.
2.  Take at least 3 days off of work in a place you love.
One thing that I hear over and over (especially from Americans) is that they can't take time off of work.  The thing is, it's not healthy to do that.  As humans we need to recharge, to de-stress and get a change of scenery.  Take a few days off, go someplace you love and don't worry about it.  A few days away from work isn't going to matter in the long run.
3.  Don't overfill your calendar.
I'm guilty of this a lot.  I book myself too much, extending myself when I really don't have the time.  This goes for booking travel as well as your day to day schedule.  Give yourself time to breath, to recharge, to have a moment.
4.  Book a plane ticket on a random afternoon in the middle of the week.
One of the most exhilarating feelings is to just book a plane ticket in the middle of a weekday.  You can plan it out or just do it spontaneously, but either way, it's a feeling that will put you on a high for a while!
5.  Explore your surroundings.
One thing that people always say to me is that they can't afford to travel, that they don't have the resources or the priorities to do it.  The thing is, traveling doesn't need to mean flying across the world.  It can also mean booking out a weekend a month to explore your own area and surroundings.  There are gorgeous places all around us and it's those that are willing to look at those places with a different perspective that will get the most out of it.  You'll be surprised by how much beauty you'll find around you!
6.  Upend your priorities.
We all get bogged down at times with our priorities and responsibilities and it's easy to get tired and stressed out.  On those days when you just want to throw your hands in the air and say "screw it," do something completely out of the ordinary.  Go out to a fancy dinner or a movie on a weeknight.  Upend your priorities even if for a few hours, it will make a world of difference and chances are you'll remember it as a great memory down the road.
7.  Start a savings account for a life-changing trip.
Can't afford to take that life-changing trip in 2015?  That's ok, but start saving for it.  The longer you put off saving for it, the longer down the road it will be.  Even if it's just $10 a month, start a specific savings account for it and start saving.  Just looking at it on your account online will make you giddy, knowing you're working toward it!
8.  Do something you're afraid of.
Whatever it is, do something you're afraid of this year.  When you conquer your fears, you'll feel amazing!
9.  Take day and weekend trips.
Getting away from the grind of life is often needed, so when you finish that big project or when your anniversary is coming up, grab a loved one and head away for the day or weekend.  Even if it's just an hour away, a change of scenery is never a bad thing.
10.  Take a leap of faith.
Some of my favorite memories are moments when I threw caution to the wind and took a leap of faith.  It's not always easy to do but often in life, we need those moments to book a last minute flight or surprise someone we love on the fly to inspire us.  Inspire yourself this year!