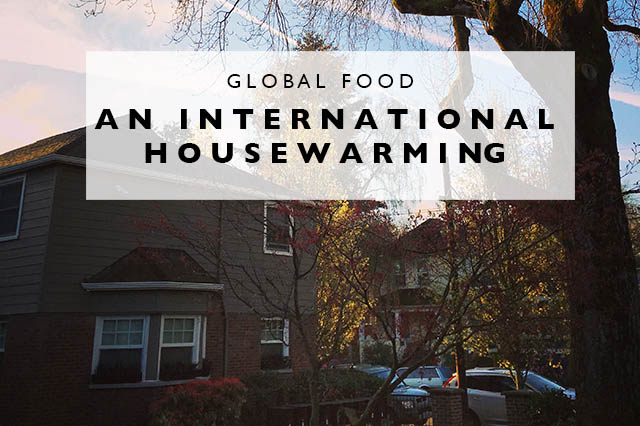 A few weeks ago, we had a housewarming party at our new townhouse.  After moving in January, we knew we wanted to open up our new home to all our local friends and family to be there to celebrate the move with us, for people to see our new place and just to have a few hours enjoying our home with those we love.  When I started thinking about what I wanted to do with our housewarming, we settled on an International theme.  We had beer and wine from countries we've visited or want to visit (French Rosé, German Reisling, Spanish Rioja + Thai Singha lager, Irish Guiness ale, and Kona Longboard beer).  We had cheeses from all over Europe including Spanish Manchego, Swiss Gruyere and Irish cheddar.  We had meats from Italy like salami and prosciutto and all topped off with my now infamous Beer Bread, which has become a staple in my entertaining ritual because it's such a hit with our friend and family.  And lucky for you, I've included the recipe below so you can make it on your own!
We also had our good friend Kristina from Tier, a local baker, make her famous sugar cookies for us.  I love working with her because she's so creative and an awesome baker, but what I love most is that when I give her a theme, she runs with it!  So for our housewarming, she made sugar cookies in the shape of a bunch of Portland buildings and homes, along with keys to celebrate our new home.  It was such a perfect touch and if you're in the Portland area, I can't recommend her enough!
All in all, it was a wonderful afternoon celebrating our travels and our new home.  I'm so glad we got to have an international housewarming to enjoy this new chapter of our lives with those closest to us and if you're looking for housewarming inspiration of your own, go for an international themed housewarming to match your own favorite travel destinations!