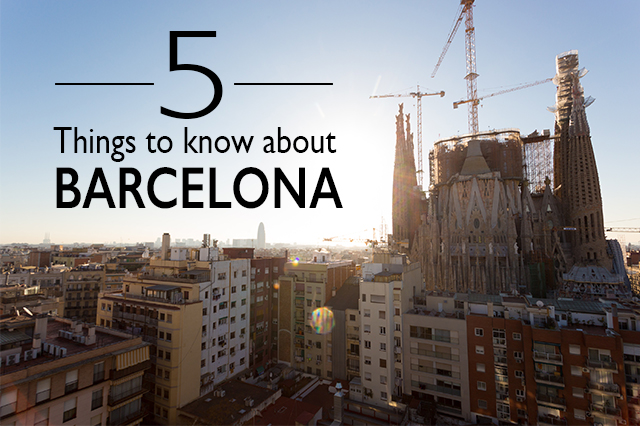 Barcelona often gets a bad wrap.  There are stories and experiences that many of us have heard over the years about this famous Spanish city and while I fell head over heels in love with it, a lot precedes a visit to this city, so here are the things you need to know about Barcelona before going…and why you'll love it just as much as I did.
1.  Don't believe everything you hear.
Before our trip to Spain, I heard lots of stories from people about bad experiences in Barcelona.  Whether it be stories of being pickpocketed or cases of food poisoning and bad food, I heard just about every bad situation everyone has ever had of experiences while traveling.  After experiencing it, I definitely think there is potential for some of those things, but honestly, those are also the things that can happen anywhere.  Yes, of course you should be safe with your belongings, but so should you at home.  And yes, you should be careful of where you eat, but so should you everywhere.  So I guess I would suggest: travel carefully and you won't have any issues.
2.  Everyone speaks Catalan and Spanish, but not everyone speaks English.
Everywhere you go, locals will be able to switch between Catalan and Spanish, which is helpful if you at least know some Spanish but don't expect most people to speak English.  We found that really only in the tourist areas did people speak English.  I relied on my Spanish for the majority of the time during our trip (throughout Spain), so be sure to learn a few of the main words to get around…it made everything a lot easier.
3.  Travel like a local.
Barcelona is filled with tourist spots and landmarks.  It is also one of the most visited cities in Europe, so knowing how to get away from the major tourist destinations is important here.  You'll find the best food, the most authentic culture and the friendliest locals away from the hubs.  So gather a list of local favorites from people you know or look online and head to those spots to travel more like a local and get a better sense of the city.
4.  The city is so much more than just the beach.
For years I've always known Barcelona as the Spanish city on the Med's beaches.  And while that does reign true geographically, we didn't even see the beach while there.  The city is so special within itself that the beach is just another cool part of town.  Barcelona is so much more than just a strip of beach so be sure to explore more than just the Med's shores.
5.  The metro is cheap and easy and can get you everywhere.
We love using local transportation systems while traveling and Barcelona was no different.  The metro was incredibly clean, efficient and cheap to use.  Buy a T-10 card if you're going to be using it a lot, otherwise, you can buy single trip tickets to get around the city.
Traveling to Spain?
See all of my posts on the country!