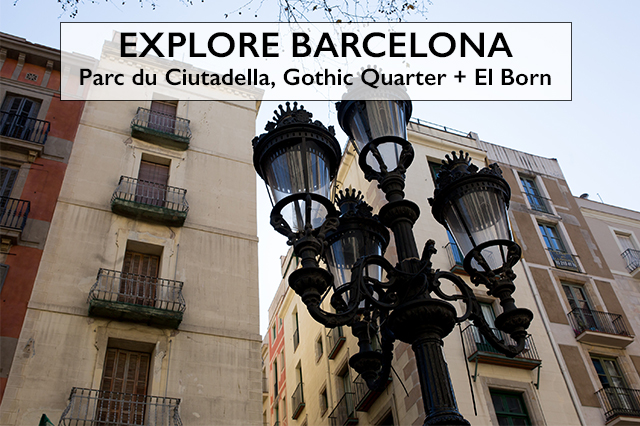 By now, it's no shock to anyone how much I fell for Barcelona after professing my love for this special city a couple days ago and on our first morning there as we started exploring the city, it was clear right away that the love we had for it was immediate.  Upon leaving our hotel next to Sagrada Familia, we headed a few blocks down the street to grab the orange L4 Metro line at Verdaguer.  We took the Metro to the Barconeleta stop, near the Parc du Ciutadella, but before heading to the park, our first stop was necessary at Can Paixano (La Xampanyeria), a tiny little hole in the wall spot about a five minute walk from the Park.  This place was a recommendation from an Instagram friend who studied in the city, that I had saved long ago and wow, did it not disappoint.  A standing room only spot, huge damon and queso breakfast sandwiches and completed with filled to the brim glasses of cava, our morning started off oh so Spanish.
After being blown away by our first breakfast in Spain, we wandered to the Parc du Ciutadella for a casual morning stroll.  With locals and tourists alike, we explored the gardens, the palm tree lined walkways, and the buildings that are scattered throughout.  The sun was shining, the wind slightly blowing and we fell more and more in love with Barcelona as we wandered.  Next, we headed on foot towards the El Born and Gothic Quarters of the city.  We wandered through alleyways, ancient cobblestone streets and the buildings in impeccable order that must have been hundreds of years old.  Without much trash on the roads or buildings in disrepair, we were blown away by how Spain in general is kept up, a huge commendation to the country for keeping their history alive and repaired.
Our wandering ended as we came onto La Rambla and La Bouqueria Market, but that's a topic for another day (no need to wait long, that will be tomorrow's post).  But needless to say in all our exploring of Barcelona, El Born and the Gothic Quarter were my favorite spots; neighborhoods filled with history but also brimming with cheerful locals, windy cobblestone roads that lead to more windy cobblestone streets, small cafes here and there, old churches thrown in the mix throughout.  It was the perfect first day in Barcelona, the perfect first day to get our feet wet in everything Spanish.
Don't Miss in El Born and Barcelona's Gothic Quarter
-Can Paixano (La Xampanyeria) for breakfast
-Strolling through Parc du Ciutadella
-Spending an hour getting lost in El Born's alleyways
-Photos of the many covered walkways in the Gothic Quarter between buildings
Traveling to Spain?
See all of my posts on the country!