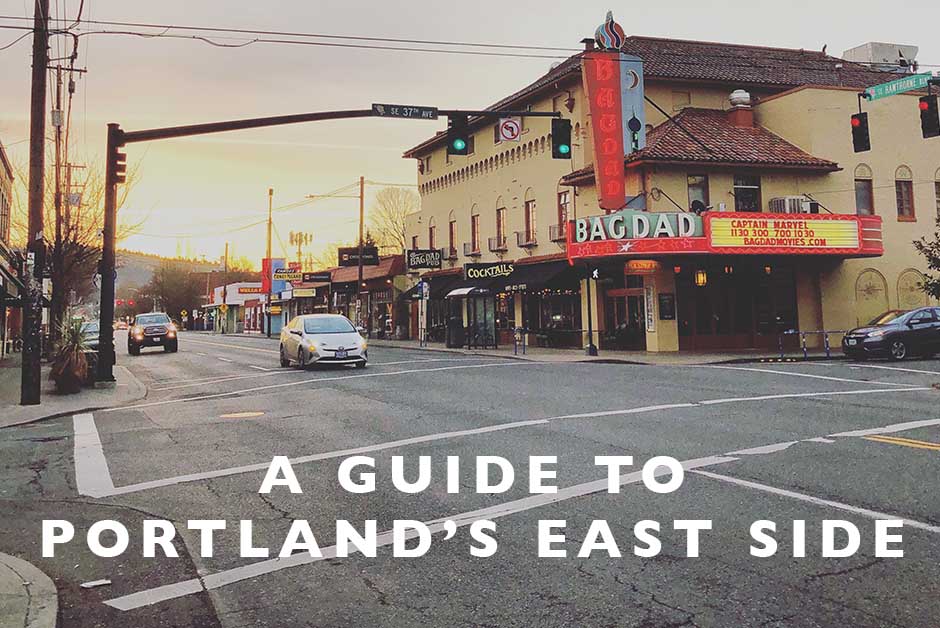 It's been a long while since I've added new posts on my home city of Portland and I hope to change that in the coming months, starting today!  I've lived in Portland for almost fifteen years (on and off with a stint in Hawaii thrown in there) but this city has become the place that I consider home, the place that I feel so connected to and love so dearly.  In fact, after years of searching for a place that really felt like home after years of struggling since moving back to the States as a kid from Saudi, Portland was the place that finally felt like home, like my own city, like I was meant to be here.
I've written in the past about Portland and you can take a look at my archives here for the city, but until this past year, we've always lived on the West Side of the city and I've never explored or dived too deeply into the East Side of Portland, simply because I didn't know it as well.  But since moving to the East Side last year, we've dived in fully and have fallen in love with this area of Portland and today, I'm showing you around Portland's East Side!
One thing to know before we dive in, Portland is separated by the Willamette River and everything on the West side of the River is known as the West Side.  This area includes downtown, the waterfront, the Pearl District and NW and a few other smaller neighborhoods.  On the other side of the River, the East Side begins.  The East side is generally known as more residential and more eclectic and after living on this side of the River for a year, I can definitely nod to that and say it's one of the things I love the most about the East Side!  So here's a guide for Portland's East Side if you visit the Rose City and some of the neighborhoods that make up this part of the city.
Hawthorne
This was one of the areas that we started looking in when we were buying our house and where we actually ended up.  Hawthorne is a long street in the heart of SE Portland full of shops and restaurants.  It feels like a little town within itself and neighborhoods like Ladd's Addition branch off of this area.
Don't Miss: Lardo
Division
Just South of Hawthorne, Division is another long road full of shops and restaurants but it's a little hipp-er whereas Hawthorne is a little more historic.  Division is new condo buildings and dimly lit restaurants and it's a favorite spot of ours for dinner out.
Don't Miss: Cibo and Ava Gene's
Central Eastside / Goat Blocks
The Central Eastside covers a semi-large area and it's becoming more and more the place to be.  I'd consider this area "up and coming" as it used to be really run down and in the recent years, it's become a foodie spot in Portland accompanied by cool apartment buildings and gorgeous views of the city skyline across the river.  It's also really conveniently located right across the bridges from downtown, so it's easy to get to.
Don't Miss: Marukin Ramen and Hat Yai
SE Clinton
This little enclave is usually considered part of the Division area, but it feels so separate, I wanted to leave it as its own area.  It's a tiny little street in SE Portland filled with some of my favorite restaurants.  It also feels like a tiny town and I love it.
Don't Miss: Fifty Licks Ice Cream, Le Moule and Broder
East Burnside
Burnside is a main road in Portland that runs East and West the entire city basically.  There is a West Side of Burnside downtown that runs into the West Hills and out that direction.  But the area I'm talking about here is on the East Side.  The famous old historic neighborhood of Laurelhurst runs through East Burnside and if you head toward NE 26th Avenue, you'll find a little enclave of amazing shops and restaurants including some of my favorites in the city.
Don't Miss: The Screen Door and Tusk
N. Williams
This area in North Portland is one of the most up and coming neighborhoods in the whole city and has been under major construction for several years now.  What used to be pretty much just residential neighborhoods has boomed into a major foodie location in the city alongside new condo and apartment buildings in really modern styles.  While other areas of Portland have focused on preserving the historic nature of the city, this area has adopted a very modern aesthetic and feels really different than a lot of other areas in Portland.
Don't Miss: XLB
Mississippi
This little enclave in North Portland feels like a small little town, with a short stretch of road full of shops and restaurants.
Don't Miss: Porque No Tacos
Montavilla
This little neighborhood on the edge of the 205 freeway is farther East than any of the other spots I'm mentioning but it's such a cute little town atmosphere that it's well worth a visit if you're out in this area of Portland.
Don't Miss: The food carts!
Hollywood
Hollywood is Old Portland and the main historic center of this neighborhood boasts beautiful old theater signs and intricate buildings.  It's also really conveniently located on the MAX light rail line and easy to get to from the airport or downtown.
Don't Miss: Shandong Chinese Restaurant
East Moreland / Sellwood
This is the second neighborhood (after Hawthorne) that we seriously looked at to move to when we moved last year.  Sellwood and East Moreland are an older area of Portland and much farther South than the others I've listed here, but its charm is undeniable.  Situated on a bluff right over the Willamette River, the centers of these neighborhoods are tree lined streets filled with amazing shops and restaurants.  One thing Sellwood is famous for is its antiques stores so don't miss wandering through them!
Don't Miss: Antique shops in Sellwood
Headed to my home town of Portland?
Check out our Portland Travel Guide in the Land of Marvels Shop for only $5!