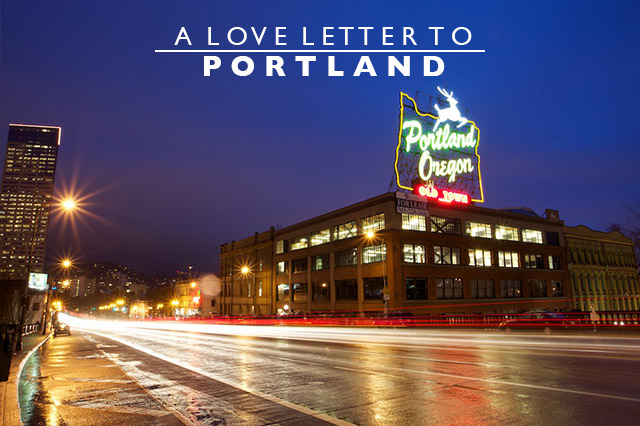 10 years ago around this time of the year I started college in Portland.  I had moved into my apartment earlier in the Summer, but it wasn't until September that I started school, started to meet new friends and that I met Nick.  September 2005 was a special time for me and a time in my life when I really started living my own life, when I really felt the freedom to be who I really was.  But no matter who I met or which classes I took, what was always there in the background during such an important time in my life was this special city I call home: Portland.
Portland is the first place I've ever felt entirely myself, it's the only place I've ever called home that really feels like it will always be home.  It's the place I fell in love with the rain, that I spent hours wandering the city streets taking it all in.  It's the place that was the backdrop for so many amazing life events, it's the city where Nick and I fell in love among the Fall leaves, it's the city where I walked down the aisle as the rain fell outside, it's the city where I bought my first apartment, where I met many of my lifelong friends.  It's the city where I graduated from college and found my passion for design, it's the city that I see when I close my eyes and picture home.  It's the city that's skyline will forever be engrained into my memory.
Portland is also the city that taught me so much about life and acceptance and faith.  It's the city that opened my eyes to all different types of people, that celebrates our uniqueness, that opens its doors to anyone.  We're a city of acceptance, of open-mindedness, of celebrating being different.  It's a city where we proudly say "Keep Portland Weird," and where grooming your beard has become more than just a hobby, it's a profession.  We're a city of great coffee, an incredible food scene and some of the most beautiful landscapes in the world.  We promote clean living and sustainability and we definitely work to live, not the other way around.  Portland is about purple hair, a great cup of coffee and smiling when it starts to rain.
I'll never be able to fully put into words what this city has been for me.  For a kid that no where really like home after leaving Saudi and knowing I'd probably never be back, I spent almost a decade of my life feeling adrift.  Portland rooted me, it embraced me, it taught me and I've never looked back.  I've seen a lot of the world since moving here 10 years ago, I've fallen in love with places all over the globe, but when we land on that runway at PDX, when we drive those familiar streets to our apartment and when our local places say they missed us while we were away, I still get butterflies inside that I get to call this incredible city home.
Portland is and always will be a huge part of my soul, a city that truly has shaped who I am, that has changed the course of my life in the best and most profound way.  I feel so incredibly lucky to have roots here, to have fallen in love here, to have grown up here.  And so, a decade later, may this be my deepest and most heartfelt love letter to a city that forever has my heart.
Headed to my home town of Portland?
Check out our Portland Travel Guide in the Land of Marvels Shop for only $5!