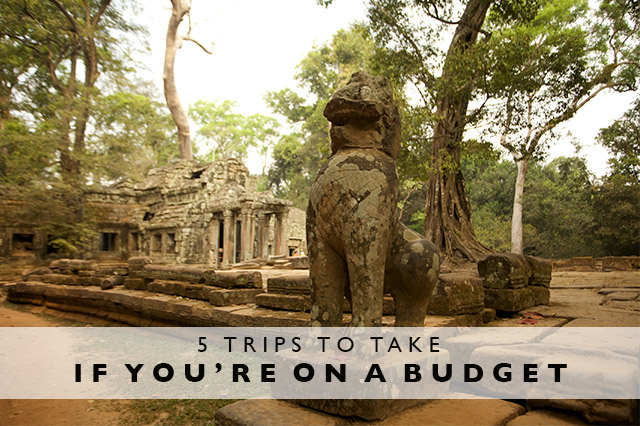 I often get asked, "Your trips look amazing but if I'm on a budget, where would you recommend?"  My first question back is always, what sort of budget?  Because in all truth, Nick and I travel on a budget too, it just might be different than yours.  And while it may look like we splurge on amazing hotels and incredible experiences often, more often than not it's because we've used points or found an amazing deal.  But regardless, let's say you have a fairly small budget for a week long trip out of the US… if that's the case, then here are 5 trips to take if you're on a budget to save the most money while at your destination.
1. Thailand
We flew through Bangkok and spent a few nights passing through en route to Cambodia a couple years ago and left saying we wished we had more time there.  Not only is Thailand home to some of the friendliest people on Earth and some of the best food in the world, it's also incredibly cheap to travel to.  The biggest cost will be your airfare to get there, but once there, you can eat super cheap (like a huge bowl of pad thai for $1.50 cheap) and explore the culture for hardly any money.  Even really nice hotels (we stayed at the Metropolitan by Como for around only $100/night) and if you're willing to downgrade a little, you can find a lot for not very much money in Thailand in terms of accommodation.
2. Cambodia
On the same trip that we visited Thailand, we also spent a few days in Siem Reap, Cambodia.  I was blown away by how cheap Cambodia was, even in regards to just coming from Thailand!  The food here was some of the best we've ever had traveling anywhere, the people so friendly and the temples, out of this world.  With tuk tuk drivers offering to take us around all day for $10 or incredible street food being served for $2, we left Cambodia with money left over and an incredible experience as well.
3. Portugal
Want to head to Europe but don't want the expensive price tag of the major spots like London, Paris or Rome?  Look at Portugal as an option.  Our few days in Lisbon this past Spring left us wanting more and in shock at how affordable everything was.  Food, transportation, hotels, Lisbon is a big European city with everything necessary for a great trip with great price tags.  One trick here, be sure to get out of the main tourist areas so you don't pay way more for food!
4.  Spain
Another great spot to head in Europe for a low price tag?  Spain fits that bill for sure.  Particularly Andalusia and cities like Granada and Seville.  Taxis are super cheap, food is incredible and you can eat really inexpensively tapas style, plus many restaurants throw in free dishes when you order certain items.  Even hotels were really well priced for what you get in Spain.  We stayed in Barcelona with a view of Sagrada Familia from our hotel room for only around $100/night!
5. India
For a trip you'll never forget and one that's easy on your wallet, India is a fantastic place to head to.  Transportation is cheap, even when hiring private drivers, you can get a lot of bang for your buck on hotels and the food, well it's out of this world.  It's also a place where just wandering and exploring you see so much, so you don't have to pay a lot on activities!