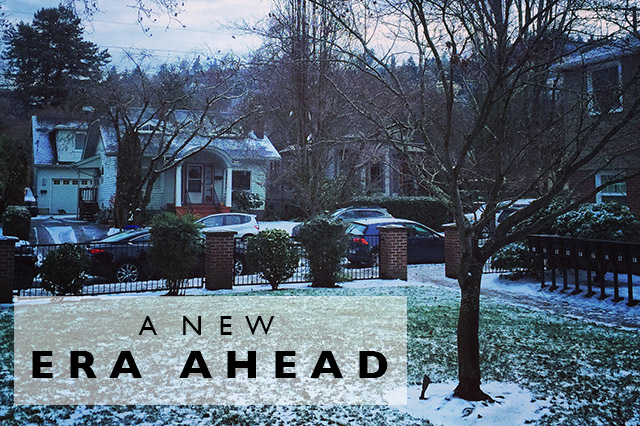 To say that we've had a lot going on the last few months would be a huge understatement.  And while Land of Marvels continues to run in the background, I've had many things happening in the foreground recently in my day to day life.  On top of work, running a business and teaching part time, in November we decided to start looking for a new place to live since our 500 square foot apartment, as much as we adored it, was just getting a little crammed particularly with me working from home.  We just needed a little bit more space.  So we started looking (in this crazy Portland market) and found a townhouse in NW Portland that we just fell in love with only 5 days into looking with our realtors.  We had only seen 4 other properties, but I just knew the minute I walked through it, this was it.  Long story short, Nick came to see it for a second showing, we made an offer immediately and it was accepted.  Today we'll be closing on that townhouse after a bunch of issues that came up on the seller's side during our time in contract as well as selling our current apartment throughout this process as well.
I have such mixed emotions on the whole thing.  On one hand, we're so excited to move into our new townhouse, get new furniture, design it to our tastes and explore a new neighborhood.  On the other, we're saying goodbye to a home we've lived in for 9 years.  Our old apartment was the first home Nick and I bought, it was the apartment we have redone and changed over and over, it's the place that has been a part of our lives since college.  To say goodbye is hard and even then, I'm not entirely sure what emotions will play a part.  I think honestly, we won't be able to process it all until a few months down the road when we look back fondly on it or drive by it and remember our lives there.
But such is life I guess.  People move, things change and we just go from there.  New apartments come into our lives, townhouses become our new homes, we move neighborhoods, etc., and that's all part of this game we call life.  I guess when I look back at the past couple of months since we made that offer in early November, it seemed like a blur most of the time.  We were crazy with work, holiday stuff, travel and then add all the stuff that comes with buying a home in there as well and at the time I remember thinking, "I can't wait to just sell our place and be in our new place."  But perhaps we need that time, we need the time of dealing with mortgages and titles and real estate people.  We need that time of cleaning out and organizing our lives, because that's our processing time.  Then later, we can look back and know that we can feel all the emotions we need to because those things are out of the way.
So as we start a new year in a new home in a new neighborhood, I know that this is a new era ahead.  An era where it's ok to feel all the emotions of leaving our first home together behind, a new era where I might every once in a while drive by our old building, but also a new era of love and pride at where we're headed.