We are back from Southern Oregon and our holiday weekend and I can't wait to start posting again, with lots of great posts I'm excited for this week and coming in the next month!  I hope all of you (Americans) had an amazing Thanksgiving and I can't wait to head into the Christmas season now, with lights sparkling and temperatures dropping.  I'm also hoping all my feeds are updated by now from the switch to WordPress and everyone is getting posts, if not let me know, but to get going again, here we go!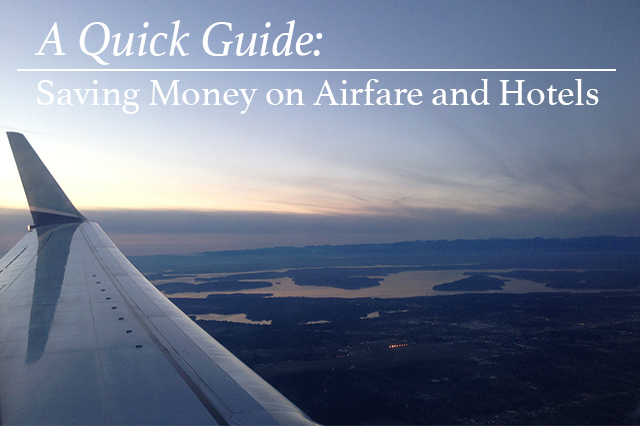 While travel can definitely add up very quickly when looking at a budget for a trip, there are also some great but lesser known ways to save quite a bit of money.  I've been traveling for many years now and over time, I've picked up numerous ways to save here and there on travel so that you can do more with the money you've budgeted for a trip.  When you've saved a chunk of money and are ready to start booking your trip, here are some great ways to save money on hotels and airfare.
Sign up for email notifications from airlines and hotel sites
This is perhaps the most under-acknowledged and unused way to save money on hotels and airfare.  Whichever airlines you use the most often or the sites you like to book with, sign up for their email newsletters.  I subscribe to 10+ different airlines and websites I like to book travel with and watch for their emails that advertise sales.  You'll be shocked at how much just watching the websites' emails will help with finding amazing flight and hotel deals.  You'll also be the first to know when a sale is happening to make sure you get the best deal possible.
Many of the incredible flight deals I've gotten over the past few years have been because I've seen them mentioned on large travel blogs I follow.  My favorite is The Points Guy, who has amazing advice for using miles and posts amazing flight deals as soon as they are shown.  
Fly on Tuesdays or Thursdays
When booking, if your dates are flexible, you'll be amazed at how much cheaper airfare is when you fly on off days.  This means trying to avoid Fridays and weekends and Mondays.  Middle of the week is best and I've had best luck on Tuesdays and Thursdays over the years for the best airfare deals.  Flying on off days also helps with your chances for upgrades as well when there will be more seats available since fewer people are traveling.
Buy your airline tickets mid-week, in the morning
This still blows me away and I can't believe that companies still do this, but believe it or not, you could pay a ton more when booking on weekends or evenings.  Websites raise their prices during peak booking hours, that means that whenever most people are booking (ie. when they are home on weekends or evening) fares and costs can be way higher.  I've had them sometimes $300 more during those times from when I've looked at other times like on weekday mornings.  I try to do all my fare research in off hours to see what the lowest fares are and then make sure and go back and book during off hours as well.
Book award travel more than 6 months in advance or last minute
If you're thinking of booking travel with your points, it's best to either book way far in advance (6+ months before travel) or last minute.  Many airlines only open so many award seats (especially internationally) on flights early on and then may open up a few more last minute to fill seats.  I prefer to book ahead of time to confirm dates, so make sure to plan ahead when using miles.  But it is also often easy to get award booking seats a few days prior to departure, so if you can do it last minute, that works often too.
Don't travel during peak times (yearly and daily)
You'll find way cheaper fares in non peak travel times during the year, such as fore-going travel in tourist seasons like Summer or during holidays, specifically Thanksgiving and Christmas.  If you can be flexible, it's best and cheapest to fly and travel in early Spring (February-April) and late Fall (October-November).  
Another great thing to keep in mind if you want to travel over the holidays is to travel to regions that won't be celebrating whatever holiday it is.  For example, traveling to Europe over Thanksgiving you can find pretty good deals since it's not a holiday there.  Same with Christmas, traveling to places like the Middle East that won't be celebrating Christmas, you can find better deals than traveling to places where everyone will be traveling.  
This also relates to flying in off peak times during the day.  For example, fares are going to be more expensive in the morning and evenings since that's when most people travel.  But looking into red eye flights or mid day flights can often cut back your expenses drastically.