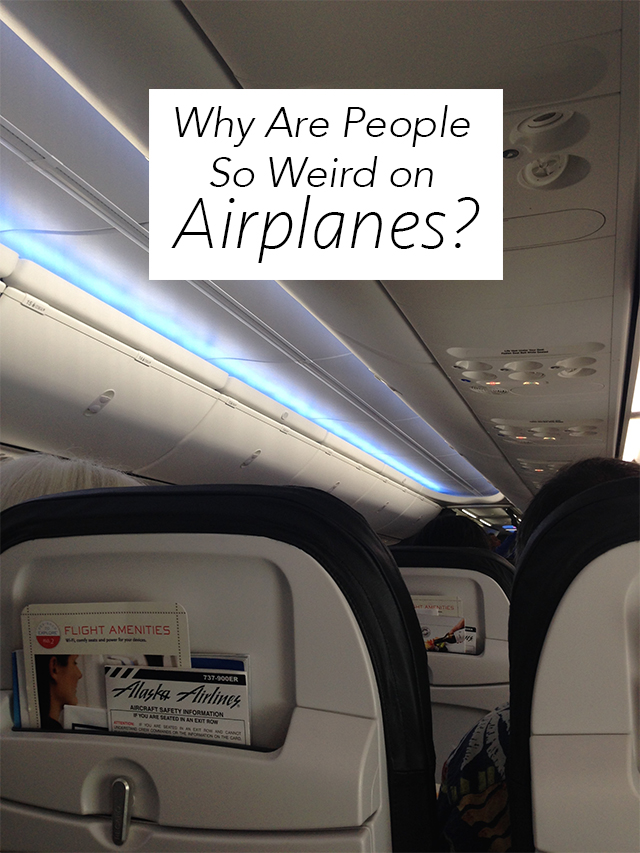 Do you ever get on a flight and immediately know your neighbor crammed into the seat next to you is just going to be a problem the whole flight?  Yea, I think we've all been there a time or two and really, more than not, the question is why are people so weird on airplanes?  Nick and I have so many stories of weird people sitting next to us for the usually 8+ hours while traveling, crammed into seats within inches of these people.  And over the years, I swear people's boundaries and etiquette on airplanes just gets worse and worse.  So today we're reminiscing on some of my favorite bad airplane neighbor experiences over the years and yes, these all legitimately have happened, at one point or another.
Socks on my Seat Guy
On our way home from our layover in Iceland on this last trip in October, we loaded into our middle and aisle seats, got settled and waited to see who the lucky winner was for the window seat next to us.  Low and behold our neighbor gets on towards the end of boarding, tries to find space for his luggage, grabs a huge pile of stuff from his bag (loading it into his arms), and proceeds to squeeze over to the window seat.  Within minutes (before we'd even left our gate), he had his shoes off, feet with socks literally sprawled over to the back of the seat in front of me.  No joke, this guys feet were directly in front of my legs, with his toes sort of resting on the top of the back of seat pouch.  Long story short, I knew I couldn't handle that for long, so when we happened (read: purposely) to take the water bottle out of that back seat pouch and it snapped on his toes, I couldn't help but smile.
Disinfect Everything Lady
On our trip to Iceland a few years ago, we encountered a few different hilarious stories with our seat mates.  This is the first and to this day Nick and I still joke about it whenever we get on an airplane.  Our neighbor on this flight got in her seat, took our a giant tube of disinfecting wipes and proceeded to wash everything down.  Literally everything from the armrests to the window shade, to the actual window.  The tray table, the wall next to her, the top of the seat, literally nothing within a foot of her didn't get disinfected.  And I get wanting to wipe down your tray table and armrest, places you'll be touching but this lady disinfected her seat so far that I guarantee you'd never actually touch any of those spots.
Condensation on my Window Woman
On that same trip to Iceland, we encountered something I've never quite seen before or since.  The woman next to us in the window seat started freaking out upon our descent when ice crystals started forming on her window, which them proceeded to start dripping as we landed since we were going from very cold to warmer air.  This is a pretty common thing on airplanes by the way and happens to me a lot when in a window seat.  However this particular woman literally started hyperventilating, pressing her flight attendant call button a bunch of times, during which the flight attendants came to tell her that's normal.  She didn't like that and proceeded to keep saying that her window wasn't fitted properly if water was coming in.  Long story short, the woman really never got over it until we were on the ground, which means it was a lovely descent for us next to her while she was freaking out.
Let's Yell to Our Family Over Multiple Rows People
This particular incident happens a lot on my flights to Hawaii when you have large groups of people traveling together.  Needless to say, it really isn't necessary to yell over multiple rows of plane seats to people you know sitting rows back.  Get up, walk back there and say what you need to say and then sit back down.  The rest of us really don't need to hear your life story while you shout over us.