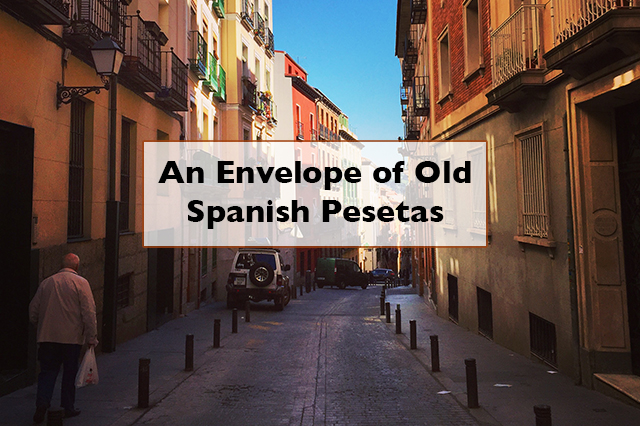 First off, even though it has nothing to do with this post, Happy St. Patrick's Day!  Since I'm Irish, I feel the need to shout that from the rooftops!
And moving on, before we get full blown into trip posts from our adventure through London, Spain and Portugal, I wanted to touch on something that occurred during our trip and my reactions to it.  Two days into our trip my grandfather had a stroke and has been in the hospital ever since.  The thing is, a few weeks ago, doctors were actually nervous about him having an aneurysm which in the end turned out to be nothing, only for this to happen just days later.
Two days before we left I saw my grandparents in Portland, where my grandpa handed me an envelope of old Spanish money that he had kept from his travels there years ago, a token of their adventures to extend to ours.  In the moment, it didn't seem all that important, I was grateful of course, but looking back now, it's a memory that keeps replaying over and over in my head.  The thing is, we run round and round working, taking care of our daily lives and running from one thing to another that those small moments are often overlooked, often brushed over.  And yet when it really matters, those are the only things that matter at all.
It's been a rough six months for my family, beginning in the Fall with my mom's cancer diagnosis and now this, but out of it comes lessons that perhaps only situations like this can teach us.  We stayed and finished our trip in Europe even after the news because my mom and aunts were there to help, but also because every day during the trip I would look down at that envelope of old Spanish money and know that my Grandpa would have wanted us to enjoy the experience and to create as many memories as possible.
So as we wandered the streets of Spain and Portugal, as we traveled through the countries and fell in love over and over again with that part of the world, one thought kept coming back to me over and over: we don't know what the future holds, we don't know when the hard times will come or what they will entail, so living each moment to the fullest, seeing the world, chasing dreams, following your heart…all those things that are easier said than done, we really must do them.  We must explore our world, we must fall in love, we must contemplate this life we lead and we must do them now because we don't know what tomorrow will bring.
I wrote this post sitting on the train from Madrid to Sevilla, as tree groves and small villages flew past the window, as views of vineyards up the sides of mountains and green pastures created a gorgeous view.  And all the while, that packet of old Spanish pesetas sat tucked away in my purse at my feet, a constant reminder of what it truly means to live.