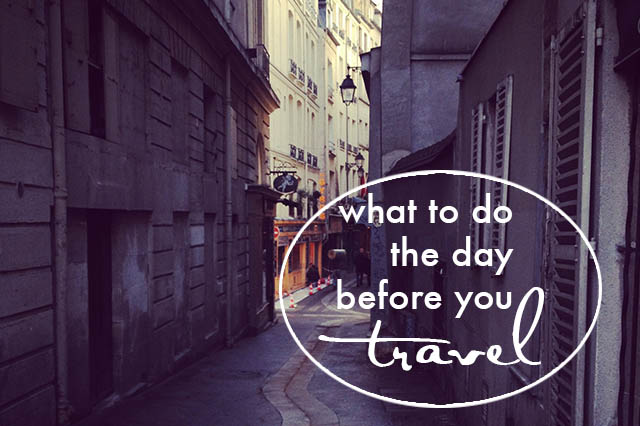 We are headed to Europe tomorrow for a 12 day vacation through London, Spain and Portugal and we couldn't be more excited, but there is also a lot of work to do before you leave!  I wrote a complete pre-trip checklist last week with general things, but there are so many little things to do the day before, so here is an extended version of that list.  So as I'm running around today getting everything done, here's what to do the day before you travel.
Clean out your wallet and purse.  I always go through my wallet and purse and take out all the miscellaneous stuff that collects there in my daily life.  Go through and clean out garbage, take out all those punch cards you won't need on your trip and take out any credit cards that you won't use while traveling.  I usually just keep my Global Entry ID, my debit card and about 3 credit cards that don't have foreign transaction fees (usually my BA card, my Sapphire Preferred card and my American Express).
Pack toiletries.  I wait until right before my trip to pack all my toiletries as most of them I use on a daily basis.  Go through and make sure all of them have enough in them for the duration of your trip and see how many plastic bags you'll need to accommodate all of them.
Do laundry.  I always do a few loads of laundry the day before we leave so that when we return, I don't have added stuff to our already big laundry load after a trip.  Make sure you have towels clean for when you get home and do a couple normal loads so that when you get home, you just have to focus on your trip laundry.
Set your mail hold request.  This is the one thing that I always seem to forget until the last minute, luckily, it's a perfect thing to do the day before you leave.  Set it to start the day of your trip and end the day you get home.  You can do this on USPS's website and it's fairly straightforward.
Let colleagues know you'll be on holiday.  Make sure to let your colleagues know you will be on vacation and confirm they have everything they might need from you before you leave.  I always answer email while traveling anyways (just so I don't have a million when I get home) but you probably won't have access to all your files while you're gone, so make sure everyone has what they need.
Download all airline or travel apps necessary.  I always go through the day before we travel and make sure my phone is stocked with all the travel apps I'll need.  Flying a new airline this time around?  Make sure to download their app so you can access flight information and mobile boarding passes.  Also add in your flights to Flight Tracker (my favorite for keeping track of flights) so you can see all your flight times and terminal information.
Confirm what time you need to arrive at the airport.  Go through all your flight information the day before and confirm how early you need to be at the airport.  If you're checking bags, be there at least 2 hours before your flight.  If you carry on like we do, a solid hour before the flight is usually enough for us.
Get excited! One of the best parts of the day before travel is the excitement for the adventure ahead… don't let the stress of getting everything done overshadow the fact that you're going on vacation the next day!