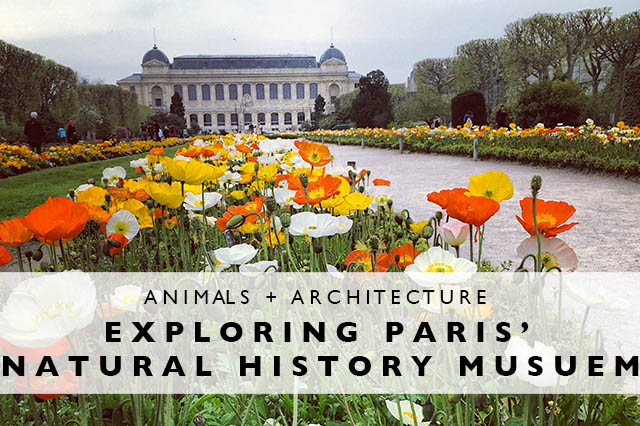 A place that's been on Nick's list to see in Paris since our first trip there together five years ago was the Natural History Museum in the French Capital.  We've made efforts to make it there for years now and finally got to visit on this most recent trip.  If you're heading to this museum, know that it's kind of a ways out of the main area of Paris and the easiest way we found was to just walk along the Seine until you see the entrance (it's a solid 20 minute walk past Notre Dame).
Upon entry, you can wander through the Jardin des Plantes, which in April was in full bloom!  Surrounded by gorgeous museum buildings, this garden is truly a special place and the flowers were sprouting from everywhere and worth a wander through even if you aren't headed into the museum.  Entrance to the gardens is free as well!
There are multiple museums to see in this vicinity, we opted just for the Natural History Museum itself which we'd seen photos from, but you could easily spend half a day exploring the whole park and other buildings.  We bought our tickets from a kiosk outside the door of the building and headed in, unsure of exactly what it would be like.  And let me just say, it's a crazy blend of amazing architecture, eery life-size animals (we couldn't ever quite figure out if they were real stuffed animals or replicas) and crazy lighting which changes from bright simulated sunlight to crazy thunderstorm light with thunder sound affects.
All in all, it was definitely interesting.  I got a weird vibe from the visit mostly due to the fact that it felt kind of like walking through a taxidermy shop and on some level, that just felt strange to me.  But if you're in the area, I'd say it's definitely worth a wander through, if only for the amazing building and architecture itself!
Headed to Paris?
Check out our Paris Travel Guide in the Land of Marvels Shop for only $5!