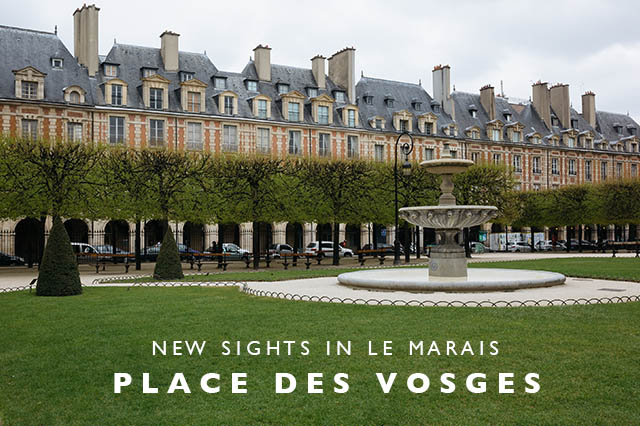 Many times when we visit Paris, we tend to stick to the same spots.  We have our favorites that we tend to stay near and when you know a city well after visiting multiple times, it gets harder and harder to branch out and see more.  So this most recent trip to Paris, we challenged ourselves to get out and see more spots that we hadn't on previous trips but that I've heard of quite a bit.  One of those spots: the Place des Vosges in Le Marais.  We don't spend a ton of time in the Marais usually but truthfully, I'm not sure why because it's a gorgeous area of Paris and way more local than many of the other spots close by and I'm sure now we'll stop through this area a lot more often.
I have seen photo after photo of the Place des Vosges over the years, a lovely small park surrounded by gorgeous red brick French architecture but we'd never stopped in to see it for ourselves until this past trip and I'm so glad we did!  It was a freezing cold April day when we visited, but we found a bench, watched people walking around, took in the new green leaves on the surrounding trees and just embraced all that Paris is in those moments when you can watch it all go by in front of you.
If you happen to be in the Marais on a trip to Paris, I encourage you to head into the Place des Vosges, find a bench and just take it all in!