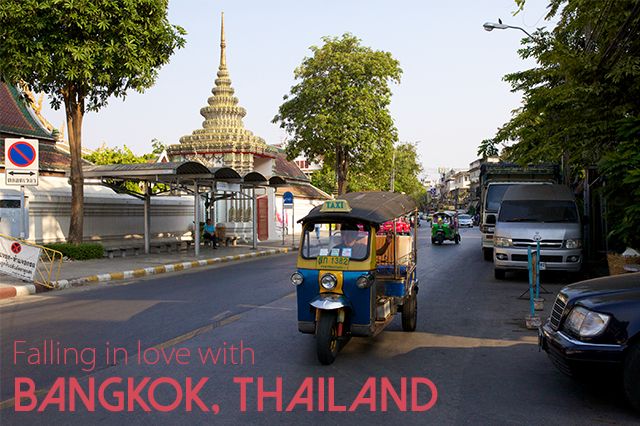 To be totally honest with you, I didn't think I'd like Bangkok or Thailand in general.  I didn't really have any interest in traveling there prior to this trip and frankly, the only reason we ended up going through Bangkok was because it had the best flight connections for us from India to Cambodia.  Due to flight times, we ended up having to spend 2 nights in the Thai city, one en route to Cambodia via India and one at the very end of our trip before we headed home.  I've never thought that Thailand was a place that I'd connect with and the connotations of it that I knew, I didn't think would fit my "travel personality" if you will.  I pictured a huge dirty city, a tropical culture (due to the amount of beach destinations in the country) and in short, sort of a party city (due to some of the seedy attractions that do indeed reside in Bangkok.)  It just didn't sound like me, it just didn't appeal to me in the ways that other cities I've wanted to visit did.  
And let me be brutally honest again, I could not have been more wrong.  Bangkok turned out to be one of my favorite stops on our trip, a city that the more we explored, the more I loved.  From its gorgeous temples, to river taxis and tuk tuks, from the bright pink taxis and the friendliest people, from the clean city streets to the exotic markets selling everything you could ever want, Bangkok was nothing of what I expected but turned out to be everything I loved.  I was blown away by the smiling locals, the taxi drivers who spoke no English but carried on full conversations with us in Thai and smiling and laughing along the way like we had understood it all, throwing in a few English words here and there like "traffic" and "almost there" and trying in desperation to pronounce our hotel's name: "Met-ro-pol-i-tan."  I was moved by the grand temples and exotic palaces, taking in their grandeur as a breeze blew off the River and created such a pleasant climate.  I was amazed at the bounty of helpful people that would approach just to help us if we looked lost, not looking for anything in return, with the masses of monks roaming the streets in their orange robes, looking through the markets and talking on their cell phones.  I was blown away at how much I loved the city, a city that I had no intention of loving. 
I guess in that, there is a lesson, that often times the places that we think the least of will come to win us over more than we ever had expected in the end.  It's those places that often we end up loving the most in this world because they blew all our expectations out of the water, creating for us a new reality in which our first impressions were totally and completely wrong and what's left in its wake, is a new found love affair with a city you adore.  
Bangkok will for sure be a place we'll return to in the future.  The few hours we had to explore the Thai city were just not nearly enough and as we roamed the streets on foot, sped through tiny side roads in the back of a tuk tuk, and enjoyed the clean and efficient tram system, Nick and I kept saying to each other how much we want to come back and explore more of the city and more of Thailand as well.  Bangkok for me started an affection in me for Thailand, something that I think will only leaving me wanting more of this beautiful country until the day we return.
Traveling to Thailand?
See all of my posts on the country!