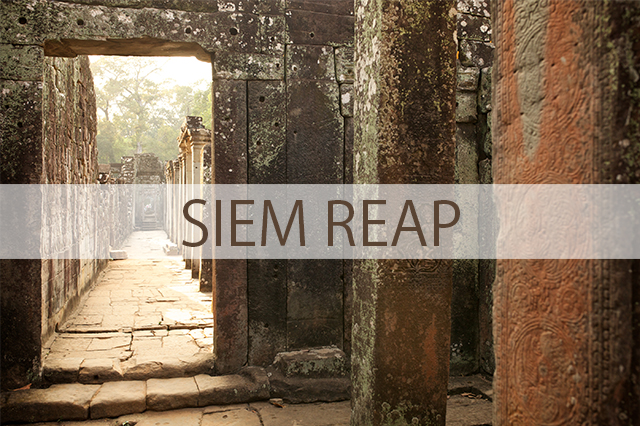 On our second day exploring Siem Reap, after a very early start to the day to see the sunrise at Angkor Wat, we spent the rest of the afternoon at our hotel, resting and cooling down.  About 3 in the afternoon, we headed back out, grabbed a tuk tuk and drove the 25 minutes or so from our hotel to Bayon in the Angkor Thom complex.  We spent time wandering around there for a bit, then hired another tuk tuk for $4 to take us the kilometer journey down a very bumpy path into the jungle toward Angkor Thom's lesser known East Gate.  Also a scene location from Tomb Raider, Nick had really wanted to check it out.  It was one of my favorite parts of our time in Cambodia, as we stood in the middle of the jungle, just us and our tuk tuk driver, monkeys roaming around and the beautiful old East Gate with its stone face staring down at us.  It was one of those moments when you are almost catapulted back in time, imagining what this must have been like all those years ago with the sounds of the jungle echoing around us.
After another very bumpy tuk tuk ride back to Bayon, the sun was falling and we enjoyed the golden hour wandering around a very empty Bayon, which ended up being our very favorite temple of the ones we saw.  The faces, the tall towers, it was beyond incredible.
Finally as the sun set, we met our original tuk tuk driver (who had gone and come back to get us) and had him take us to Pub Street in Siem Reap.  We enjoyed the flood of a breeze in the back of the tuk tuk after a very humid and hot day and eventually ended up at a street cafe on Pub Street, ordered Cambodian BBQ, spring rolls and coconut milkshakes and had a leisurely last dinner in Cambodia.  This meal was one of the best meals I've ever had while traveling and I find myself craving it daily since we've gotten home.  We took in the scene around us, watching the people, enjoying delicious food and talking about our trip.  It was such a perfect last evening in Cambodia and we ended on a much higher note than our time there began.