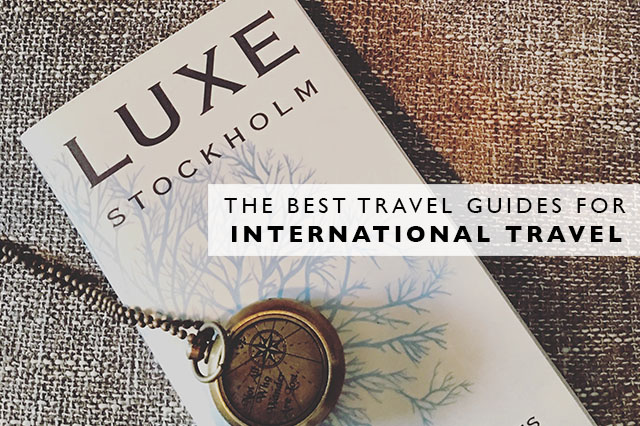 Travel takes research, and especially International Travel, requires you to understand a city or destination before heading there.  Sure, you could jump on a plane and just show up, but without doing the research or understanding the layout of the destination you won't be organized and therefore won't be able to see everything you want to.  So when you're planning International travel, you'll most likely turn to travel guides to get a hold on the information you'll need to not only plan your trip but also to make the most of your time while on the ground at your destination.  But… there are so many different travel guides out there, so which to use and which are the best?  Well as a frequent traveler, here are the guides that I go to when planning my International travel and what I like about each one!
I couldn't have a list of travel guides without mentioning my own Land of Marvels Travel Guides in my LOM Shop!  I offer guides for several cities and destinations around the world based on my personal experience exploring those places.  And the best part, they are only $5!
For maps, these are my fave!  They are a great size and easy to read, they are laminated so still easy to use even when it's raining and they show streets and public transport really easily together.  I have been using the Streetwise Maps for years and they are definitely my favorite!  And while their collection sticks mostly to large cities, they also have smaller Subway and Metro maps for cities like New York and London.
I was turned on to the LUXE city guides years ago and I still buy one for every city we go to.  They are compact and easy to travel with, but they are also super hip and offer great advice for the millennial traveler.  From shopping to dining to great general tips, I'm a fan of the LUXE city guides.  They also are all beautifully designed and look great sitting on a shelf at home.
Sometimes we'll be heading to a place where I can't find a Streetwise map for it or I want a little more info than I was able to get from other sources – when that happens I head to the DK Eyewitness Travel TOP 10 guide books.  My favorite thing about these: the foldable map at the back of the guide.  I also love these for the easy size and lots of photos!
As an alternative to the TOP 10 Guide books above, I also love the Frommer's Day by Day guide books.  These are great for destinations that you'd like to just use someone else's itinerary or if you have a specific time frame in a destination and don't want to have to do a ton of work figuring out what to do.