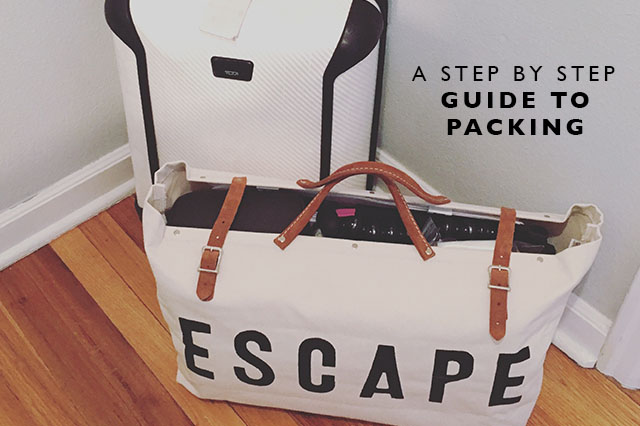 I've talked a lot about packing here on Land of Marvels and as a believer in carry-on packing, we've discussed packing mostly on the premise of how to actually fit everything in your suitcase.  But we haven't discussed much about how I actually choose specific clothing for trips and the thought that goes on behind the scenes before the suitcases even come out.  So for a step by step guide to packing and how I actually choose outfits for trips, here is all my best advice!
1. Pick a color scheme.
I always pick a color scheme before a trip.  Depending on the destination, that might mean lots of bright colors or it might mean more muted options.  For example for our most recent Europe trip through Amsterdam, Germany and Austria, I chose to go with tan/camel as my neutral and then everything else was black or navy based around that.  That way I didn't end up with all sorts of items that wouldn't go with everything else.
2. Lay out all the options.
Once I have an idea of what my color scheme and vibe might be for a trip in terms of outfits, I lay out all my options on my bed.  This starts as a large grouping at first and then we'll narrow down.  But starting with all the options for that color scheme and look helps to get my head wrapped around what I'll need.
3. Narrow down options.
After step #2, then I go through and narrow everything down.  I usually cut down the options by half or more at this stage.
4. Try everything on.
After I've narrowed down options, I try everything on.  This way you get an idea of what you'll really need and any other changes or updates you might want to make to the outfit.
5. Take photos of outfits and write them down.
I take quick photos in the mirror of each outfit so that when we're traveling I remember what I was thinking.  I also write them down on my itinerary so that when I actually get to packing them in my suitcase, I can go through the written list and make sure I have everything from each outfit.
6. Set them aside for a few days.
After steps #4 and #5, then I'll set everything aside for a few days to think about the items I chose to bring.  Sometimes I'll rethink it and change up a few things a few days later, sometimes it stays the same.  This is why it's important though to start this process about a week before your trip so you have time to mull over your options.  Sometimes my outfit options will change also as I watch the weather close to my trip.
7. Pack your suitcase.
And finally, after a few days of updating or changing as needed, a few days before my trip, I'll pack everything in my suitcase.  If you want packing tips for this for carry on only, I have a video post here!