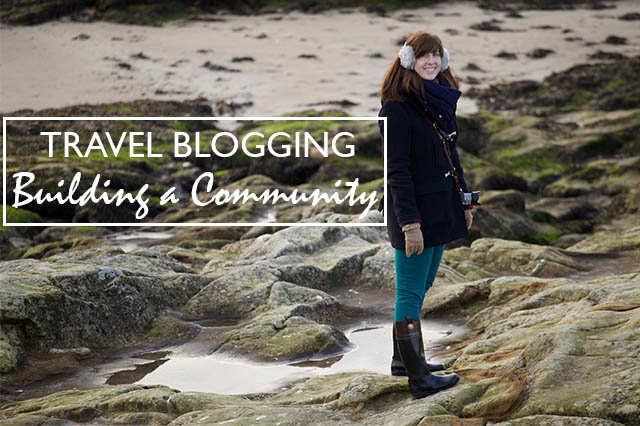 I've written a number of posts over the years on the topic of blogging, on tips I've come across, advice to those just starting out and a bunch of random topics in between and if you're curious, you can scroll through those posts here.  Lately I've had a lot of requests for more of these types of posts and on blogging tips once you've reached an intermediate level so this week I want to dedicate each day to a different topic on travel blogging in particular, though all the topics could easily be applied to all types of bloggers.  I feel like there is a lot of information out there circulating about how to start a blog and tips to make it grow, but once you are in the game, I wanted to talk about some of the blogging strategies that I've used here on my blog and maybe some of these strategies and tips could help other bloggers in their search for how to grow their own blogs.  So here is my advice for the bloggers, travel bloggers in particular, that are in that second stage of growing and moving their blogs forward to the next level.  
One thing that successful blogs do well is a commitment to building and growing a community.  A blog ultimately is about a bunch of people interacting, readers commenting, people offering their own opinions and advice and creating relationships between writer and readers.  Every great blog out there has a community, a place where readers and authors connect and a great sign in blogging is when you have an action comment section, with readers commenting and interacting with each other and the author of the blog.  I love the community that has grown here on my blog and I've formed some great relationships with readers over the years.  It's really important to grow and develop that community because at the end of the day, a blog is really about its reach to a community, to have people that love reading your writing and will spend the time to engage with your writing.
It's About More than Statistics
I've never been one to check my stats very often.  I know generally what kind of stats I have on the blog but it's not a daily or weekly thing that I check.  There is so much more to a successful blog than how many views you get because if you get a ton of views but no one comments or engages, then what is the point?  I put more stock in having my readers comment on posts, tweet me about certain articles or generally just interact with me.  That interaction I think is far more valuable in the long run.
Create a Comment Community
I love the comment community here on my blog and it's one of my favorite parts of my day to go through and read all the comments and answer back.  I make an effort to reply to every comment, even if it's just a quick response, but it's my way of keeping the conversation alive.  I love it when readers and I will go back and forth on comments for a while, having a discussion and getting to know each other.  Comments are an incredible way for us to interact online in a very real way.
Interact With Readers
One of my favorite things is to interact with readers, to hear their thoughts and get to know them.  Whether it's in real life or just over the internet, it's so nice to meet people through blogging that have many of the same aspirations as I do.  I've had Twitter conversations, comment discussions, email chains and everything in between with readers over the years and I always love those interactions.  It makes for a closer knit blog community when as bloggers we reach out directly to readers and are accessible.
Use Social Media
Social media is one of those things that can be extremely powerful for a blogger.  Anymore, a blog without anything else really isn't going to work.  We all want to feel like we know bloggers, we want to see what they do on a daily basis on Instagram, we want to see what they retweet on Twitter, we want to see their trips and their thoughts on Facebook.  And to be honest I think it brings us all closer.  I love following bloggers I like on Instragram and Twitter, I love scrolling through to see what they are up to or what they are wearing or where they are traveling.  It makes us feel like we have a connection to them and in that way, using social media to grow a larger following can be an incredible tool.  But be smart with it.  I've really changed the way I use Instagram in the last year, focusing more on quality of my photos over quantity and I've focused it more on my personal life instead of blog stuff since I get a lot of questions on my daily life.  This way followers can see where I am and what I'm doing, both when I'm at home and when I'm traveling.  Social media can also be a great tool to employ when working with brands, which I'll be talking about in another post this week!
Building Personal Relationships
I touched on this a bit above, but over the years of blogging, I've built some really great personal relationships online.  Many of these have turned into real life meet ups all around the world, but even if we haven't been able to meet in person I really value the personal relationships I've built with readers and other bloggers.  This part of blogging is really fulfilling because it brings people together on a very personal level.