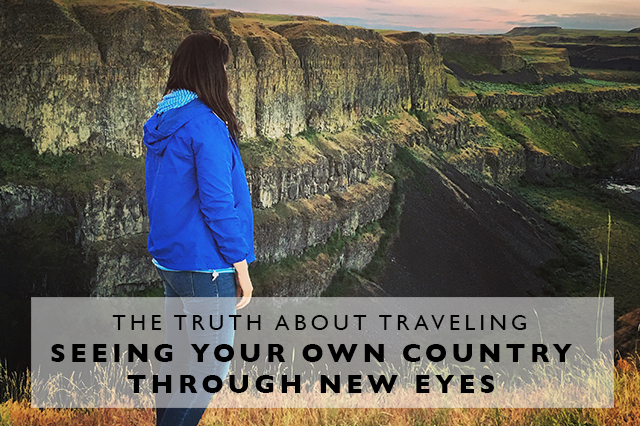 On our recent road trip to Yellowstone National Park, we purposely gave ourselves more days than we probably needed and more stops than we needed to be able to see more of the Western part of the US, a section of the country that is truly right in our own backyard.  There were places on our itinerary that we'd been wanting to get to forever like the Palouse in Eastern Washington, but you know other things and places always came first – like yearly trips to Paris or jaunts to Iceland or Autumn weeks in Tokyo.  Somehow the foreign places always seem more intriguing, more interesting.  Somehow the landscapes around the world and the cities across the globe always pull us more, perhaps because they are so different than we're used to at home.  But the truth is that our own countries, and my own country of the United States, are just as beautiful and just as unique and it's important to remember that.
This trip was a different one for us.  It was a week long, 5 states explored, and a dozen cities and towns along the way.  We don't normally do such long trips in the US – most are long weekends and most are city escapes.  This time though, our goal was this : see as much as we could of the North West section of our own country.  We wanted to enjoy the drives, take in the landscapes and see the country, untouched and raw.  And see it we did.
In the 7 days we spent driving from Portland to Yellowstone and back, I realized something: no matter where you live, no matter how far you travel and how much of the world you see, it's vitally important that we see our own countries too.  It's vitally important that we understand that someone that lives just miles from where you do might live completely differently, think completely differently.  It's important to understand the geographical factors in our world, and the economic ones.  It's important to just see with our own eyes what our own countries offer the world, the community.  It's vitally important for us to personally see with our own eyes what's right in our backyards even though it might not seem all that exotic.
The United States is vast, one of the largest countries in the world.  It has landscapes that change over and over as you go through state by state.  It has all sorts of cities and towns and economic importance.  It has some of the most diverse geographies in the world and above all, it's my country, so it's important that I see it.  Just as important as seeing history in Europe or chasing senses in Asia.  Just as important as my roots in the Middle East or seeing ruins in South America.  Sometimes all it takes for us to truly understand where we come from is to see our own country through new eyes.  And sometimes the things that are closest to us are the things that end up changing us the most.