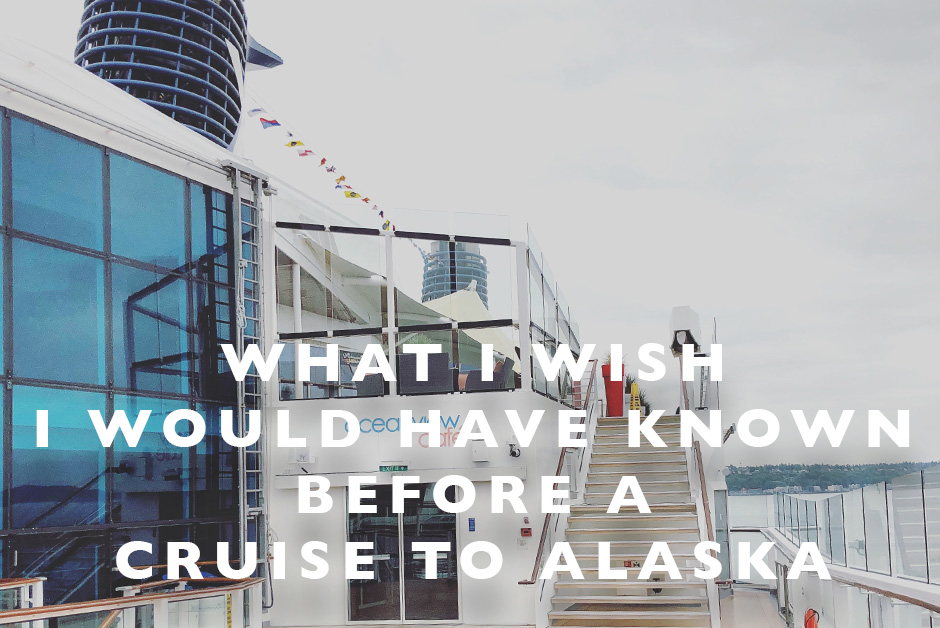 Before embarking on our first cruise, I spent a great deal of time scouring the internet for tips for first time cruisers as well as specifics for cruises to Alaska.  And while there was a lot out there, I had to search for individual things and they were peppered all over the internet so today, I'm rounding out the what I wish I would have known before a cruise to Alaksa in hopes that somewhere out there on the internet is a post with everything all in one place!
What I Wish I would have known before a cruise to Alaska:
Bring on bags that are light and easy to roll around when you board the ship.  You'll need to check your large luggage in before you board the ship but anything small, you can carry on with you.  We both had a backpack and then one other bag to carry with us, problem was that third bag was pretty heavy and it became kind of a pain to carry it around for 3 hours before our stateroom was ready.  If I did it over, I'd change that third bag out for my Tumi carry on roller bag so it would be easier to roll around and not have to carry extra weight.
Check if your stateroom is ready.  Since we had never been on a cruise before, we weren't sure about when we'd have access to our stateroom that first day.  Online, I found it ranges all over from right away to late in the afternoon for when the rooms might be ready.  We ended up waiting until about 1pm (after boarding around 10:30am) to check if our room was ready.  And it was, however it looked like they had been ready for a while before that, so you might want to check before the time frame they tell you – you never know!
Have a large lunch when you get on board to hold you over for dinner.  Again not knowing anything about cruises and what restaurants would be available for us that first day, we headed up to the main dining buffet to have lunch around 11am after boarding.  And considering that there wasn't going to be anything open for dinner until 6pm, we had a big lunch at the buffet to hold us over.  The one thing that was a little hard for me to get used to on the cruise was having to stick to a strict schedule of when restaurants would open for each meal.
Only purchase a drink package if you think you'll be drinking a lot over 7 days.  Upon boarding the ship, they were selling drink packages and Nick said that we probably should get them as he went on a cruise with his family when he was a kid and remembered something about them.  Having never been on a cruise myself, I didn't realize that any drinks (even bottles of water) wouldn't be included in my already paid for package.  We opted to get 1 non-alcoholic beverage package for Nick since he drinks a lot of sparkling water and soda.  Overall, I think it was probably a waste considering how much they charged and we probably wouldn't have paid as much just buying individual drinks for Nick but it was a good learning lesson.  If you're going to drink a ton (alcoholic or not) on the cruise at restaurants, other than just plain water, you'll want a drink package.  But if you only will be buying 1 or 2 drinks per day, it's probably not worth it.
Find a spot to nap and relax before your stateroom is ready after you board.  We weren't sure of what to do in the span of time after we boarded around 10:30am and when our room was ready around 1pm.  We ended up having lunch at the buffet restaurant and then found a deck chair to just lay down and nap for a bit before going to our room.  I'd recommend scoping out the ship and then just finding a place to relax for a bit.
Internet packages.  Oh I have a lot to say on the internet packages on the cruise and none of them very good.  We bought the cheapest internet package and it was still something like $300 for the 7 day cruise and that only included 1 device at a time!  Meaning we could never use the internet at the same time the whole trip.  On top of that, the internet was pretty horrible most of the time and some days was barely even usable.  It felt like a rip off even spending the money on it.  And then on the last day, we looked at our charges and we had suddenly been billed for another plan which was much more expensive.  I called guest services and they reversed the charge, but for something we already felt ripped off on, it just added to the feeling.  Long story short, don't plan on having great access to internet on a cruise, which for us is hard when we travel, since we never really sign off of our jobs and need some access while we're gone.
Aqua Class and Blu.  So on Celebrity cruises, they have what they call their Aqua Class.  It's basically an upgrade for a larger room and some other amenities.  We opted for this on our cruise for a number of reason when we were booking, thinking that we'd have special access to a bunch of other restaurants over the normal ones.  Well in actuality that's not really the case.  What they mean on the website by special access is that instead of having access to eat in the Main Dining Room, the Grand Epernay, you'll eat your meals (breakfast and dinner) at Blu which is reserved only for Aqua Class customers.  We didn't know this and showed up at the main dining room for dinner our second night on the cruise and were a little rudely turned away without actually explaining this to us.  We did end up having great meals at Blu, but felt like this could have been made a little clearer.
You may not get fully seasick, but have Drammomine ready – even if it's never bothered you before.  I got slightly seasick during our cruise and while I was never physically sick, I got pretty dizzy a few times on the cruise.  I also was really bothered by the vibrations in the ship, especially when going really slow.  I've been on boats in the past and never had an issue, so bring Drammomine anyways!
Disembark with your own bags.  When getting off the ship, we are always up early and wanted to be off right they started disembarking and the quickest way to do this is to disembark with your own luggage.  If you have the ship take your luggage off, it could take a while longer as you'll be put in disembarkation classes and then have to wait for your bags.  We were off in 10 minutes and headed straight for our shuttle to our car and it was really easy.
If you're leaving from Seattle, park your car at Seattle Cruise Park.  We parked at Seattle Cruise Park and had a great experience with them! It was fast and easy.
Are you headed to Alaska?
See more of our Alaska content here!