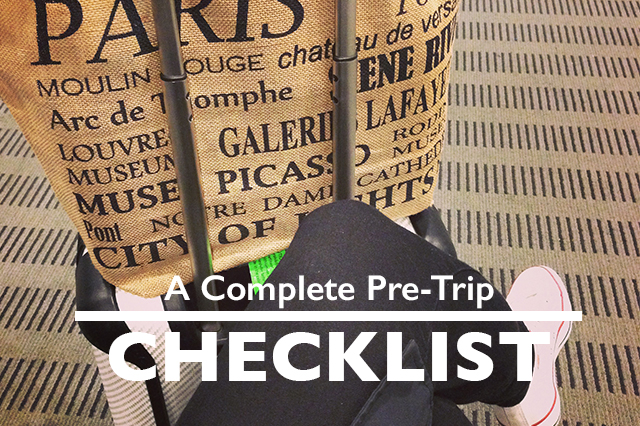 Just a reminder that there are only a few days left to use the current discount on ad spots!  Now through the end of February all Land of Marvels ad spots will be 25% off with code "landofmarvels" so head on over and get yours now!
We are headed out on vacation to London, Spain and Portugal one week from tomorrow so I am in the midst of getting everything ready for the trip and making lists and more lists and more lists of things to do before we leave.  It dawned on me, I'm not sure if I've ever done a pre-trip checklist so here's how I prepare for a trip overseas: your very own complete pre-trip checklist.
2 Weeks Before
+Figure out what you'll be packing.  I know a lot of people will look at this and say they can do it the night before you leave, but in my experience, a million other things in life will come up right before you leave, so save yourself the headache and the loss of sleep and do this 2 weeks in advance.  I go through and grab everything I'm thinking about taking out of my closet, then I go through it and weed it down into however many outfits I need that will fit in my carry on suitcase.  I also take photos and write down each different outfit for specific days to make sure I know I have everything I need.
+Print off all confirmations.  Another thing that will save you so much hassle later, print off every confirmation email you have from your bookings.  This includes flights, accommodations, experiences, train tickets, etc.  Keep a file with all that information that you'll take on the trip.  I also go through and reconfirm everything looks good just to make sure I didn't forget anything.
1 Week Before
+Get money.  I always get cash in the local currency to where we're traveling before we leave Portland.  If you get it at your local bank, you not only get a better exchange rate most of the time over doing it in airports and you don't have to pay the fees some of those travel exchange places charge.  Plus, it's one less thing to do when you arrive so you can hit the ground running.
+Call credit cards.  I always call all my credit cards that I'll be taking with me on the trip to let them know I'll be traveling through the countries on my itinerary.  This way, you can be sure that no transaction will get declined due to them not knowing if it's fraudulent or not.
+Add data plans. Nick and I like to have International data on our phones when we travel for safety reasons and to stay in touch with emails and such.  So call your cell phone provider a week prior to your trip or add it online to make sure it's all set up.
+Buy toiletry items and check if you need any refills.  I like to check a week prior to a trip to confirm what I need to buy in terms of toiletries and small shampoos and such.  I also go through and check all my makeup and any other things we travel with to confirm if I need to buy refills or not.  I can't tell you how many times I've gotten somewhere and realized my makeup was almost empty, only to have to hunt around in a foreign country for something similar.  Do this instead before hand.
5 Days Before
+Look at calendar items while you'll be on your trip.  I always like to make sure that if things are happening while we're away, we take care of them before we leave.  Things like family members birthdays or work deadlines, I make sure and buy cards or finish up projects prior to leaving, that way it's all done while we're away.  This also applies to making sure things like your DVR is set to record things you want to watch while you're gone or moving any conflicting appointments until after you get back.
+Pack your suitcases.  While I like to plan out my outfits about 2 weeks prior to a trip, I don't usually actually pack it in my bag until about 5 days before.  This way it still gives me plenty of time to get everything in there, but also not enough time that the clothes wrinkle or get too smashed.  This is also a second round to confirm you got everything.
3 Days Before
+Pay any bills that will be due while you're away.  Bills are one of those things that just happen all month long these days, so make sure any that need to be paid while you're away, get done before you leave.
+Let someone know where you'll be.  Whether it's a family member or a neighbor, let people know where you'll be and a rough itinerary of your trip.  This way if something happens, they have an idea of where you are.  I also like to let our neighbor know we'll be out of the country so they can keep an eye on our apartment and let us know if anything were to happen.
2 Days Before
+Get your passports out.  I like to get our passports out of our safe a couple days prior to a trip.  That way you can make sure they are all good to go and set them out so that you for sure don't forget them.
+Confirm seat assignments and flight times. 2 days before is a great time to confirm all your seat assignments (before everyone gets on 24 hours previous to check in) and make sure none of your flight times have changed.  It's a great last look at all your bookings to confirm everything.
1 Day Before
+Confirm airport pickups/shuttles.  I always like to know how we're getting from the airport or train station to the hotel ahead of time.  A day before is perfect to confirm those arrangements and make sure you know what's happening once you arrive.
+Pack adapters.  Pull out any adapters you might need and pack them.
+Sync devices.  This is the one thing I always forget to do ahead of time and then I'm doing it last minute.  Sync all your phones, iPads, computers, whatever the day before you leave so it's done and you have time to confirm that everything transferred over correctly.
Day of the Trip
+Pack chargers.  The one thing we need the night before to charge our devices, seem to always need to be packed last.  But don't forget them… that makes for an issue while traveling!
+Unplug cords at home.  I like to go around and unplug lamps and random outlets at home when we're gone just to be safe.
+Set "out of the office" reply. I still answer email regularly while traveling, but I like to let people know I'm technically on vacation so they don't expect an immediate or lengthy reply.  Set your out of the office reply to go live the day you leave.