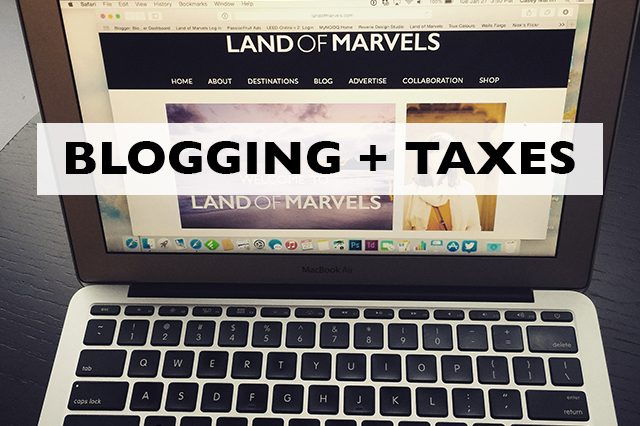 Just a reminder that this is the last week to use the current discount on ad spots!  Now through the end of February all Land of Marvels ad spots will be 25% off with code "landofmarvels" so head on over and get yours now!
It's that time of year: taxes.  I did my taxes last week and while going through, something I think that isn't so talked about in this wonderful blogging community is how the income side of blogging needs to be recorded and worked into your personal income.  So as I went through this year and did my taxes, I asked my accountant a few questions about blogging income and how it needs to be tracked to accurately measure how much you're making and what the cut offs are for what you need to show on your income statements for your taxes.  So if you're making a little bit of money blogging and wondering the same things I was about how to record it, here's how!
Keep Track of All Expenses
One thing I didn't do when I first started blogging was to keep track of all the expenses for this website, which though often misleading, there are a lot of expenses!  Blogs are expensive to run and upkeep if you're in it to make money; from website design to advertising to any other services you subscribe to, blogging can be an expensive hobby.  That's why you want to make sure to track every expense so you can write it off.  After all, if you're running your blog like a business, tracking expenses is incredibly important.  This includes everything from any sponsorship spots you bought (advertising) to website design costs and everything in between.  If you spend money on your blog, keep a spreadsheet of all those costs.
Keep Track of All Income
As is the same as keeping track of your expenses, you should also keep track of all of your income.  If you sell ads with Passionfruit (or any other way), or you offer paid sponsored posts, all the income you make from your blog should be tracked.  Keep a spreadsheet of when the income is coming in, what kind of income it is and how much you made.
If you make over $400 in a tax year, you should report it.
When I pulled together all my blogging information from 2014 last week to do my taxes, I ended up with just about $150 in profit for the year after all my expenses.  My accountant told me that if the income doesn't go over the $400 mark, you generally don't have to report it since it's such a tiny percentage of your overall income.  Though if you get over that $400 mark, you need to report it as income on your taxes.
If you start consistently making a good amount over $1000, you should set up a business registration.
Once your blog starts doing consistently well financially over the years and grows to make more money, you should consider setting up a sole-proprietor business and registering it.  It's pretty cheap (in Oregon, it's only $50 to register) and you don't have to do much else than that.  But if you're making over $1000 per year blogging, it would be a good idea to set up a business, particularly if you keep growing year after year.
Looking for more posts on Blogging?
See our archives here for Blogging posts.