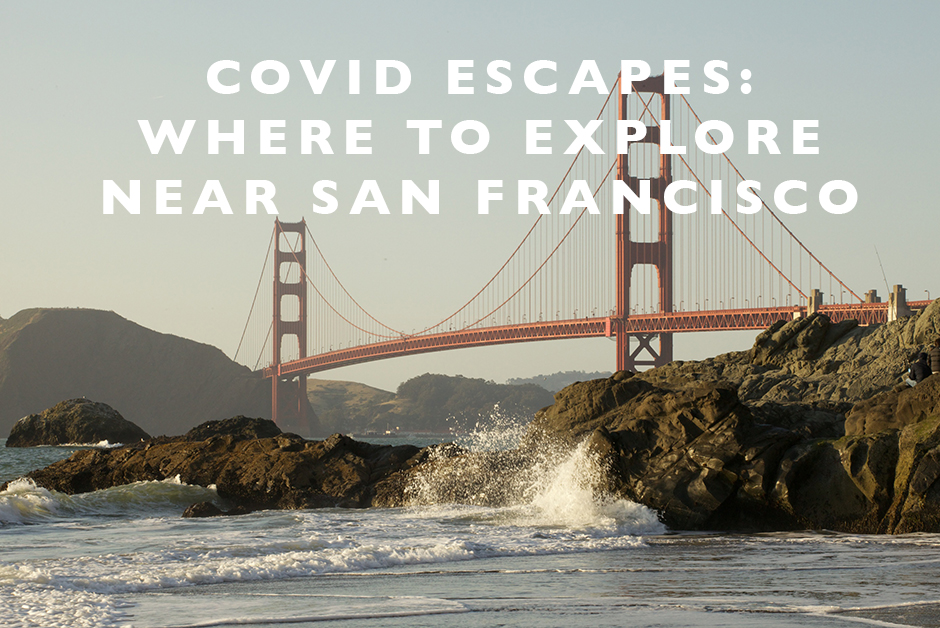 In June, I did a set of lnstagram stories about places that readers might be interested in learning more about in an effort to travel more safely during this time of COVID.  While international travel looks mostly off the books for a while, it's a perfect opportunity to explore a little more in our own backyards and do smaller day trips or short overnights in order to get a sense of escape, while still staying safe and cautious in regards to the spread of COVID.  Over the coming weeks, I'll be doing a series of posts focusing on locations in the US that readers sent in to me in the Instagram poll and offer some options for short COVID escapes in the US that we can travel to safely and easily, mostly by car!
Next up…. here's where to explore near the great city of San Francisco!
Daytrips
Wine Country – From Napa to Sonoma, the wine country areas in the Northern Part of California are truly breathtaking areas to explore.  Whether you're going to wine-taste or just to drive around the area and explore the landscapes, this area has so much to see and do.  The scenery itself is incredible, with vineyards stretching for miles and miles as far as the eye can see.
Sacramento, California – The capitol city of California often gets overlooked but it's actually a really cool city in its own right.  From old historic areas to modern high rises, Sacramento actually has so much to discover.
Quick Overnights
Santa Barbara, California – If you feel like heading South for a getaway, Santa Barbara might be just the place to do it.  In only a few hours, you can feel worlds away next to the ocean in the peaceful town of Santa Barbara.
Redwood National Parks – For a nature escape, head North to the Redwoods, the enormous ancient trees that fill forests in Northern California.
Lake Tahoe – If you want to get out of Cali for a bit, Lake Tahoe on the border of California and Nevada might just be the spot.  For nature and scenic beauty, this area will make you feel world's away from everything going on.
On My Wishlist in the Area
Monterey + Big Sur
Mendocino
Yosemite National Park