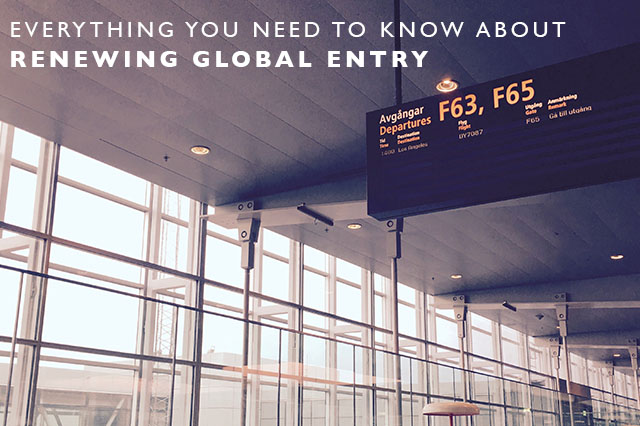 If you're coming up to needing to renew your Global Entry account, today we're going over everything you need to know about renewing Global Entry accounts.  Since the program was brand new 5 years ago and I was in the first batch of people to sign up for it, that first batch of people is now just starting to renew the program.  Due to that, there isn't a lot of clear information out there on the renewal process, so I help I can help since I'm just going through it recently.  I ran into a few snags regarding information when renewing recently, so here's any helpful advice I can offer!
Last Fall, I needed to get a new passport due to running out of pages.  So after I got my new passport, I went into the Global Entry office to have them link my new passport with my Global Entry account.  (If you don't know anything about Global Entry, check out my overview post here.)  When I was there, I asked about when I need to renew my Global Entry account since it expires during Summer 2017.  They told me I'd need to come in for another interview and since those interviews book up months in advance, I'd need to start the renewal process in February.  So fast forward to a few weeks ago when I went to my GOES account online and renewed.  During the process (which ended up being pretty easy other than lack of information from Customs and Border Patrol), I realized a few things, so here is what I learned!
1. You'll renew through your GOES account online.  
You'll go through the Manage Account button in your GOES account and follow the steps to renew.  You'll need to confirm all your information and have a list of countries that you've visited in the past 5 years.  It took me a while to list all of them as I've visited a lot of places in the past 5 years, but just go through the list and you'll be fine!
2. Once you submit your renewal online, wait until you get an email from the system.
I was notified about a week and a half later that my account had been updated.  Then you'll have to log back into your GOES Account to read the message.
3.  1 of 3 things will occur: A) You'll get approved.  B) You'll be conditionally approved.  C) You'll be denied.
If you get Approved, you don't need to schedule another interview.  Now since I had renewed so early because they told me that I'd have to have another interview, when I received my status as Approved, I was confused.  There was no place to schedule an interview and no mention of an interview in my approval letter.  I called Customs and Border Patrol to inquire about this and 3 people gave me 3 different answers (in the end, none of them were right).  I ended up searching online for people who had run into the same problem and found out that if you get Approved, you do NOT need to go in for another interview!
If you get Conditionally Approved, you'll need to schedule an interview.
If you get Denied, then you'll need to inquire further and find out why.
4. Once complete, you'll receive a new Global Entry card in the mail.  Once you receive it (mine took about a week), you'll want to log into your GOES account and activate it.
When you receive your card, log into your GOES account and click on the "Activate Membership Card" button.  From there, you'll enter the security code on the back of your card and follow the prompts.  This only take a few seconds and then you're good to go!