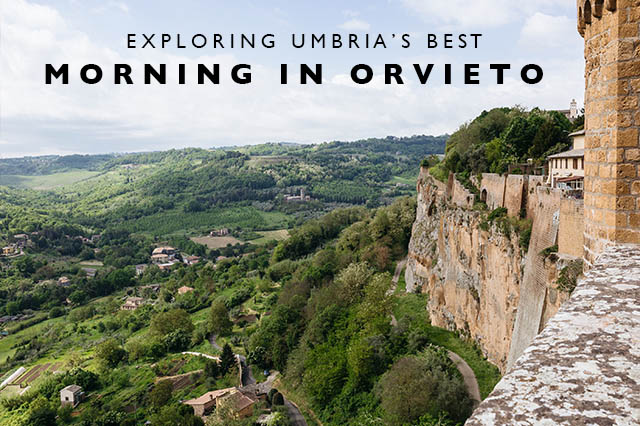 One of the things I was most excited about for our trip through Italy in April was a short road trip we planned after our couple days in Rome.  I've seen many of the big cities in Italy, but we've never rented a car and seen much of the countryside which I had high hopes for!  We began our day by grabbing a taxi in Rome headed to Fuimuncino airport to pick up our rental car.  After getting our car and getting our bearings on where we were headed, we jumped on the freeway headed for Umbria, a region just North of Rome.
I didn't know much about Umbria beforehand but it completely blew me away!  Tuscany gets so much credit for it's rolling hills and natural beauty, but Umbria surely falls very close to that and is, I think, probably is much less crowded generally.
We arrived in the hilltop town of Orvieto early, around 9am.  The streets were quiet as we drove up the curvy hillside road.  If you plan on doing a similar drive, note that almost all of these old towns in this region of Italy require you to park at a parking lot at the base of the town, pay your parking fee, and then wander up on foot.  We parked our car, grabbed our stuff and started wandering toward town.
This gorgeous ancient city is perched on top of a hill and has incredible views of the surrounding area.  But on top of that, the character in this spot is unrivaled.  Orvieto quickly became one of our favorite towns to date in Italy, oozing charm and character, tiny little streets with cafes and shops, cobblestones everywhere and ancient buildings that just scream, "this is Italy."
Tips for Orvieto
-Park your car at the car park below the town and don't forget to pay!
-You can pay to take the bus up to the town, but it's a quick 10 minute walk which I'd suggest over the bus.
-Get there early!  When we were leaving about 11am, the tour busses had started arriving and the charming town suddenly was filled with loud tour groups and was way less genuine.  So arrive early and take it in before the craziness begins later in the day!
Traveling to Italy?
Check out my archives for more posts on Italy!