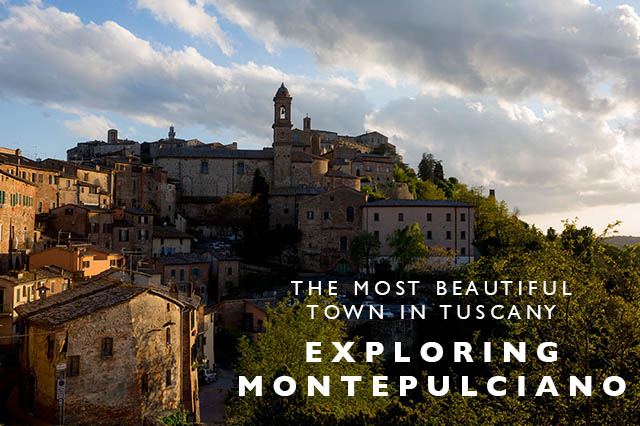 When our taxi driver dropped us at the airport in Rome to get our rental car, he asked us where we were planning on driving.  And originally, we had planned to drive all the way up to Florence and stay for the night, but after a flight schedule change the following day, we didn't end up having enough time to do that.  So when the change occurred, I had found a hotel in Tuscany close to the town of Montepulciano and booked it.  We had planned on driving up through Umbria, stopping in beautiful Orvieto and then spending the afternoon in Montepulciano.  When our driver heard this, he immediately said in his lovely Italian accent, "ooooooooh, Montepulciano!!!  The most beautiful town in Tuscany!"  We were thrilled to hear this and our afternoon in this beautiful place did not disappoint!
Montepulciano takes a while to get to, with curvy roads up a hillside and again, a car park at the base of the town where you must park and then walk up to town.  I realized later that this is the town where the Twilight: New Moon movie was filmed and it really feels like a movie set.  This ancient town is gorgeous, with little shops and cafes, cobblestone alleyways, views out over Tuscany and amazing wine.  They are actually famous for their Nobile wine, which is only made in Montepulciano, nowhere else in the world.  I fell in love with their local Rosé wines, and we found a little wine shop that shipped to the US so we bought a few bottles for us to enjoy at home.
We spent a couple hours just wandering, having a long lunch complete with local homemade burrata and Serrato ham, pizza and risotto with local mushrooms.  All in all, Montepulciano definitely deserves the title of the "most beautiful town in Tuscany."  It's windy streets and charming alleys are what this region of Italy are all about!
Traveling to Italy?
Check out my archives for more posts on Italy!