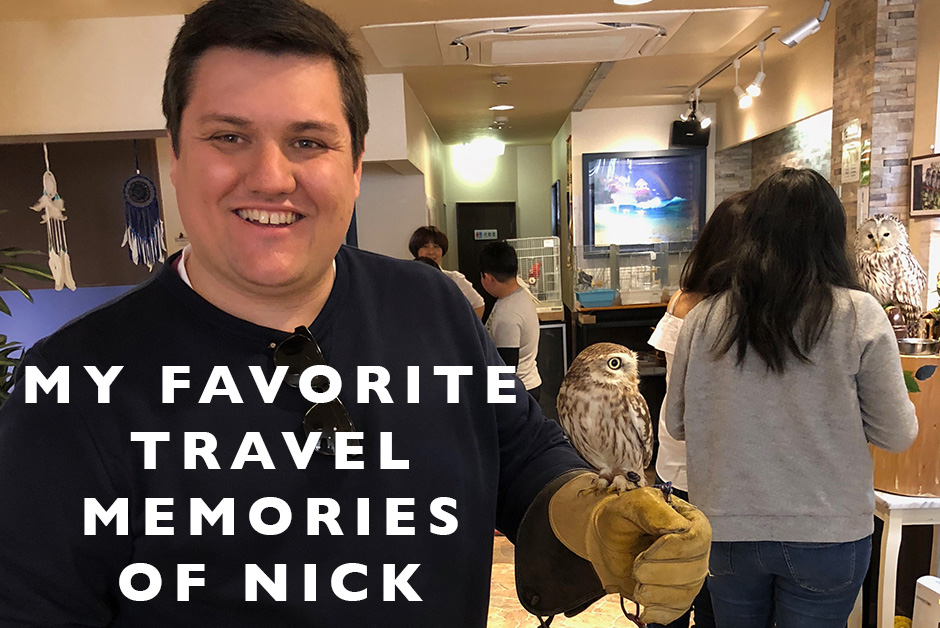 Today Nick turns 32 and I happen to love birthdays.  I love celebrating and using birthdays as milestones throughout the years.  I've been lucky enough to celebrate many many birthdays alongside Nick and in all of our years together, I love using birthdays to stop and reflect on the amazing things we've been fortunate enough to do together.  Today to celebrate Nick's birthday, I thought it'd be fun to look back on some of my very favorite travel memories of Nick and the stories that go along with them!
The Owl Cafe in Nara, Japan
I often joke with people that the happiest day of Nick's life was when we stumbled upon an owl cafe in Nara, Japan.  Nick has always loved owls as long as I've known him, and always wanted to photograph them.  When we happened upon this little cafe, we knew we had to go.  I have literally never seen Nick so excited as he ran from owl to owl to pet them and take their picture.  The hour we were there was worth every cent we paid just to see him so happy!
Midnight Pizza in Reykjavik, Iceland
On our very first trip to Iceland 5+ years ago we were staying in Reykjavik our first night when around Midnight, we got really hungry.  Nick found a pizza place nearby and suggested we go there.  Honestly, I was exhausted, jet lagged and didn't really want to go out into the November Iceland weather again in the middle of the night.  But he convinced me and we bundled ourselves up and headed out in the pitch black to wander around Reykjavik for this pizza place he had found online.  Long story short, the pizza ended up being amazing and it's still one of our favorite travel memories all bundled up in the middle of the night wandering around a foreign city in the snow and freezing cold just to get a slice of pizza.
Afternoon Nap in Hyde Park in London
Last Fall when we spent 4 days in Paris for my birthday in October, I really wanted to spend one of those days in London so we hopped on an early Eurostar bound for London to spend the day in the British capital.  It was a Saturday and unseasonably warm for October.  We spent the morning wandering around Notting Hill and by mid-day, Nick was exhausted and super jet lagged.  We were heading to Hyde Park to jump on the Tube near there but Nick was so tired that we ended up just laying down in the grass of the park and he napped for a while as I sat and read beside him.  It's so unlike him to just lay somewhere and fall asleep that I knew he had to be totally exhausted and it's such a funny memory for me as it's so unlike us in general to do that.
Belgian Waffles in Bruges, Belgium
One of my favorites and I think Nick would say the same is when we found a little open market in Bruges' main square and had the most amazing Belgian waffles of our lives.  Nick has always searched for true Belgian leige style waffles all over Europe and was so excited to finally taste an incredible one in Bruges.  It might have been pouring down rain and freezing cold, but he was so excited with his Belgian waffle.
A Miserable day in Verona, Italy
This story really wasn't funny at the time but in retrospect, we often talk about it and laugh.  In reality, it was one of those days that everything possible went wrong.  We were on a family trip to Europe with Nick's parents and Grandma and had taken a day to ourselves to explore Verona.  It was pouring down rain and freezing cold and wasn't a very nice day to be enjoying the beautiful town of Verona.  The day started with my ramming my knee into a large stone and then when it was time to head back to Milan where we were staying, we grabbed a cab from the city center back to the train station.  Upon exiting the cab in the pouring rain, Nick dropped his camera and it fell to the wet ground and broke.  Then he didn't realize I had to scoot out his side of the car since my side was blocked and he shut the door directly on me and my already hurt leg.  He felt really bad and raced to open it again, but I barely made it out of the cab and into the rain my leg was hurting so bad.  It's not really a nice story and it was really a miserable travel day, but we look back on it now and laugh all the time.  It was one of those days that nothing went right but at least we were together and we can look back on it now with a smile.