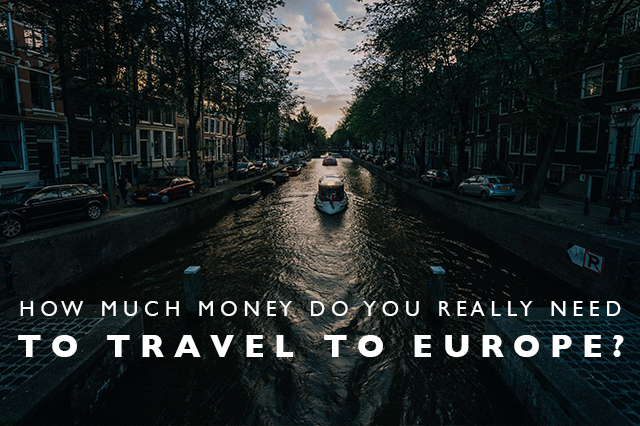 When it comes to travel, it still does take money to be able to do it.  No matter how many flights or hotels you get on points or miles, at the end of the day you still need money when you get to your destination or to the pay the taxes and fees on those points-booked-trips.  But how much money do you really need to travel?  How much do things really cost?  This totally depends on where you go and how you travel, but for today, let's talk about traveling to Europe from the US.  I'm particularly looking at heading to Europe from the West Coast of the US as that's what I do most often, so from other areas of the US it might be a bit different but generally not that much.  So let's talk about budgets and how much money do you really need to travel to Europe.
(PS, of course I'm being totally transparent here and this is from my own travels and experiences, so it will always be different than everyone in different circumstances.  While we definitely save money in certain areas of travel, we also might spend more than others in other areas.  So take this and adjust according to your own budgets and travel accordingly.)
FLIGHTS
Ok, starting with your transportation to get to Europe.  We generally fly direct to Europe (usually to London Heathrow, Paris CDG, or Amsterdam Schipol) from either LAX or Sea-Tac airports as those are the main hubs we prefer on the West Coast.  Seattle is easier for us, but it doesn't have as many options as LAX, so we find what works best with connections and such and usually go through one or the other based on circumstances.  But if we're paying out right for flights (not using points which we're doing more and more) we plan on around $1,000 per ticket in economy in shoulder and high season and a bit less (around $800-$900) for off season fares.  Now with that said, you can find amazing deals and we do often for way less than that.  With airlines like Norwegian and Iceland Air offering incredible fares from the West Coast, we use those as well to save money. (Norwegian often offers fares like $300 one way from LAX to Europe and Iceland Air flies out of Seattle and Portland for us and usually offers fares like $400-$500 one way to Europe through Iceland).
If you're looking at Premium Economy to upgrade a bit, plan on around $1,600-$1,800 per ticket.
Another tip to save money, to get to those major hub airports like Sea-Tac or LAX (or wherever you fly out of) if you don't live there, use miles on your loyalty airline to book your tickets there and home.  We fly Alaska domestically, so we always use points for those flights to and from, that way you're just paying the base fare from the hub airport to Europe and nothing for the connections from your home city.
HOTELS
Hotels are tricky because they are so different in cost wherever you go.  But let's stick with the main hub cities like Amsterdam, Paris and London.  In big tourist cities like that you're going to pay more.  For us, we really like a good hotel so we budget more.  If you don't really care where you stay or want to opt for AirBnB or other accommodation options you can get a lot cheaper.  But for us, we like to budget a little more for our experience.  We budget between $150-$300 per night for hotels, based on location and our overall trip itinerary.  Sometimes we'll opt for a cheaper place in one city so we can splurge on a better hotel in another.  But I try to not go much higher than $300 a night for hotel because there are so many great options out there for under that amount.
MONEY WHILE ON THE GROUND
We like to use cash when we travel, so I take out cash before we leave at my bank in the local currency.  That way you aren't charged fees from local ATM's or currency exchanges at your destination.  For the amount of money you need while on the ground in your destination, we generally budget about $1000 for a week to 10 days of travel in Europe.  That will cover everything day to day: activities, tickets, food, tips, etc.  Once on the ground we use only our "trip money" which we save all year in a separate savings account for trips, and that way when we get home we have nothing to pay off on our credit cards.
This also really depends on where you go, for example when in larger cities like Paris or London, we usually use all of that cash.  On our recent trip through Spain and Portugal though, we came home with extra since everything was cheaper.  So it totally depends on where you go.
A final tip on this, try to use up all your coins while on your trip before coming home.  Often times most currency exchanges in the US and banks won't buy back foreign coins and sometimes a handful of Euro or pound coins can add up to quite a bit considering they can be $1 or $2 per coin.  So if you end up at the end with a bunch of foreign coins, use them before getting on the plane!
TOTAL EXPENSES
Ok so looking at this as if you were to pay for everything on your trip (which we hardly ever do anymore, when you factor in points and such), for a 10 day trip to Europe with airfare, hotels, activities, food, etc., we budget spending between $4,000 and $6,000 depending on time of year, length of the trip and where we're headed.
CONSIDERATIONS / HOW TO SAVE
Now as I mentioned, we never spend that on a trip.  That's why it's so important, if you want to travel often, to understand how to use points, loyalty programs, blogging perks and whatever else is at your disposal to cut that cost.  Sometimes we walk away from a trip paying out of pocket barely anything, other times it's a real mix of paying versus using points/rewards.  I'm a big believer in using your points and miles to the most advantage and learning how to do that takes time and research.  So if you want to travel but can't afford that price tag above, don't worry!  There are lots of ways to cut that cost in half or even less and still have an incredible trip staying in nice hotels and flying good airlines.  That's what Land of Marvels is all about, helping everyone be able to travel and do it economically.
I have lots of posts about how to save throughout my archives, but if you're curious about anything in particular, leave a question in the comments and I'll do my best to answer it in a future post!