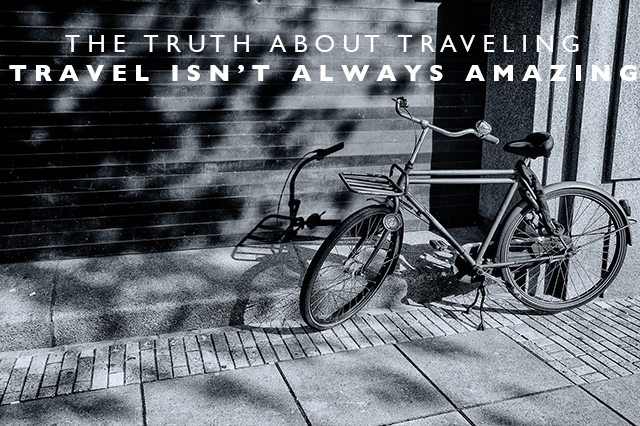 Oftentimes the blog world goes on and on about how incredible travel is and I am no different, I do to.  I do that here on Land of Marvels because I truly believe that, because my life has changed because of it, I have changed because of travel.  But one thing I really strive to do here on Land of Marvels too is to tell the truth and be honest, about life and about travel.  It's one reason I started this Truth About Traveling series a long time ago, as a way to be open and honest about some of the harsher truths of our world and about travel.
The thing is, I genuinely love travel.  But it's also important to note that travel and seeing the world isn't all rainbows and sunshine, just like life isn't that way as well.  It isn't always loving the places you visit or feeling great while exploring.  It isn't always glamorous.  And I've posted about all those things over the years.  Travel can also be sort of underwhelming, it can leave you wondering what all the hype was about or why you spent time to visit when you really just didn't like it.  And that's totally ok.
I think the biggest disservice we do to travel is not share about the gritty details that make it not so amazing sometimes too: the lack of sleep, the anxiety when you're lost and don't know where to head, when flights are delayed or plans are canceled.  The truth about traveling is that it isn't always amazing.  And in that, sometimes we must push that aside and continue on, even when we're underwhelmed or dissatisfied.  Because at the end of the day, travel is about pushing boundaries and trying new things.  It's about seeing with your own eyes all those places that are part of our world and we aren't ever going to love everything or feel great all the time or be totally blown away by everything.  Sometimes travel isn't going to change you or move you or show you the best the world has to offer and that's part of the fun and part of the joy too.  Sometimes travel is about showing you that we're all human, we all see things differently and we all find awe in different things.  So the next time you take that trip and come back feeling underwhelmed or disappointed, that's ok too.  The goal is to keep going, to pick yourself back up and embrace the next adventure with open arms not knowing what might be ahead.