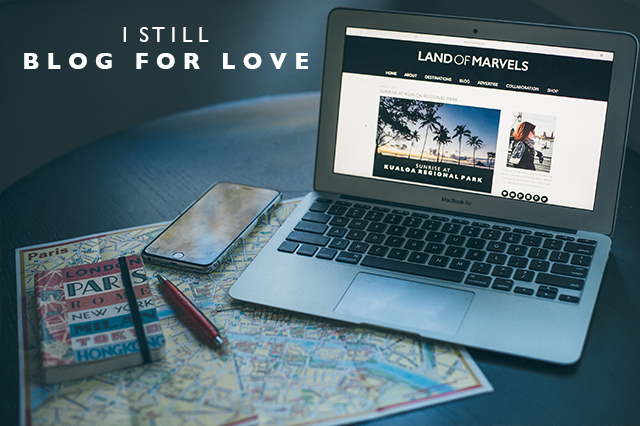 I've been thinking a lot lately about my blog, about my place in the blogging world and how much it's changed since I started.  I actually have had a blog since I was a teenager, back then it was private and full of angst, but then it morphed into True Colours which was more of a lifestyle blog in the beginning with not much of a following, which then morphed into more of a travel blog and finally, I launched Land of Marvels this past Spring which is almost all travel-related and has gained an amazing group of readers.  And throughout that span of blogging I've fallen in love with it.  I've always loved writing, but blogging added a very real component to my writing, it offered me a place in an incredible community.  For me, the writing and the community and the connections I've made have always been what propel me to keep coming back here to this space.
The blogging world though has changed a lot in the span of time I've been part of it.  Even from when I was blogging for maybe 3 or 4 followers, I always looked up to those bloggers with 4,000 followers, thinking, wow, they've really made it.  Now here I sit with that many followers on Bloglovin' (plus thousands of others across social media and other reader platforms) and I now look at those bloggers with hundreds of thousands or millions of followers and wonder… is that what it means to really make it in the blogging world?  There is so much competition now, so much out there about doing this or that right, so much to make us lose focus and wonder if it's all even worth it.  I've wondered that myself at different points.  Is the time and effort I put into Land of Marvels worth it?  Is the investment worth it?  Is this space still special enough for to me to keep going?  And the answer to all of those questions, always ends up being yes.  And here's why…
I still blog for love.  I still come back to this space and love to write.  I love sharing Nick's photos.  I love sharing our journeys, our search for life around the world, our exotic travels, our hard moments, our memories.  I love the connection between readers and myself, I love the people I have met through blogging and being part of this incredible strong community of women I've met online (and some in person).  I love the spirit of blogging, I love the feel of sitting here at the computer screen with music playing, looking out my window, and just letting the words flow.  And I know every post isn't amazing and that I could do a better job with SEO and marketing myself and posting on social media, but this is me and Land of Marvels has always been about my journey, the good and bad and all of me.  I'm not perfect.  I have a million other things going on in my life and while I do consistently post here, I don't always have the time to commit to pushing further for more followers or marketing myself.  For me, blogging has always been more about the organic journey of my life, writing my stories and connecting with all of you.
So if you're a small blogger thinking that a certain amount of followers means you've made it, think again.  What really means you've made it as a blogger is that you still come back to your space and love it, without worrying about the amount of followers or the amount of comments on your posts.  For me, the day I resent this space or worry about finding the time to post or accepting free press trip after press trip just because, that's the day I'll quit.  For me, I find blogging is the most refreshing when you still love it, when you look forward to writing, when you enjoy seeing your space day after day and it's a priority in your life.  For me, I still blog for love all these years later and that to me is the most important thing.